Cooking and baking are a favorite part of the Thanksgiving tradition in our home.  I always love the time I get to spend with my boys as they help me prepare our yummy feast!  It sounds a bit cliche but it's so true that as we do all that cooking together, I feel connected to our family, both past and present.  It's so much fun to get out our old recipes and share in remaking those dishes that have been passed down through the generations.  For as much as I enjoy all that baking and cooking, I have to say that it can also be really nice to just whip out a simple dish that doesn't require a lot of slave labor!  So keep on enjoying all your old family favorites, but here are some tested simple, no bake Thanksgiving recipes to gobble down this year.
Rosemary & Cranberry Spread
It's hard to wait for The Big Feast on Thanksgiving!  Keep eager tummies happy but not full with some bite-sized rosemary and cranberry crackers.  Life's Ambrosia share the recipe here.
Pumpkin Deviled Eggs
Bring an Easter favorite to the Thanksgiving spread this year.  Deviled eggs are egg-stremely quick, easy, AND healthy.  I love how these have been shaped to look like little pumpkins!  Find a tasty Thai spiced recipe here.
Cheddar Chutney Cheeseball
When in need, make a cheeseball!  I mean, who doesn't love dipping into the creamy, flavor packed goodness of a cheeseball?!  We tried this cheddar chutney recipe one year for Christmas but it's probably a little more suited for Turkey Day. The pecans on the outside make for a welcome extra bit of crunch.  Source.
Cranberry Almond Slaw
Here's a cool and refreshing no bake slaw to lighten an otherwise heavy meal.  The mustard based dressing is my absolute favorite!  Recipe.
Fennel and Pomegranate Quinoa Salad
While not a recipe I would have thought to serve for Thanksgiving myself, my sister-in-law brought a fennel and pomegranate quinoa salad with her to our Thanksgiving gathering one year, and it's one I like to pull out every now and then again.  I especially make sure to have it as a source of protein for the dedicated vegans and vegetarians in our family.  The tartness from the pomegranate is such a nice coupling with the spice from the fennel.  Recipe here.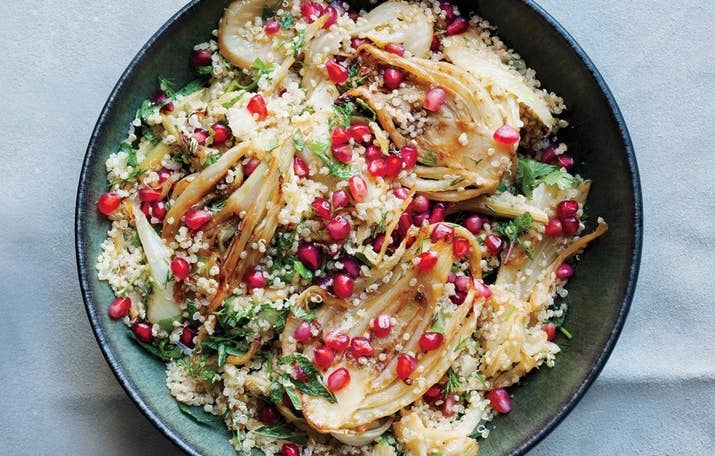 No Bake Pumpkin Cookies
No bake.  Pumpkin spice.  Cookies.  Need I say more?  Get the drool-worthy recipe here from Sugar & Soul Co.
Pumpkin-In-A-Jar
If you like the taste of homemade pumpkin pie but want to skip the tedious task of making one from scratch, look no further than this pumpkin-pie-in-a-jar recipe.  The show-stopping dessert is made of layers of spiced pumpkin puree, marshmallow cream cheese mousse, and ginger snap crumble (you can use graham cracker crust instead if you prefer, but we LOVE the ginger snap version around our house).  Top it all off with some whipped cream and a ginger snap cookie, all without ever turning the oven on. How jarring!
Creamy Cinnamon Apple and Walnut Fruit Salad
For a lighter dessert option, try this creamy cinnamon apple and walnut fruit salad.  The cranberries and spices keep you pretty satisfied without all the heavy pies and fillings.  So yummy!  Recipe.
No Bake Pumpkin Spice Cheesecake
I came across this recipe a couple years ago right after Halloween and was so drawn into it that my boys and I made it for Thanksgiving that year.  It was such a hit with everyone (traditionalist Grandma GG included!!), that we made it again last year and plan to do so again this year as well.  The cheesecake is a nice offering after such a carb-heavy Thanksgiving feast.
Chocolate Pecan Pie
We had a post-Thanksgiving meal with my in laws last year and I still can't get over the grand finale dessert!  A lifetime lover of pecan pies, there was no way I could turn down a no-bake chocolate version of this personal favorite indulgence.  I highly recommend you don't either!  The chocolate shell and tongue coating pie filling will leave you with one seriously happy tummy.  Get the recipe from A Treat's Affair.