1. The Truly Perfect Turkey
Acclaimed as one of the finest chefs in the world, Raymond Blanc shares this recipe for the truly perfect turkey.  One of the secrets to this Frenchman's tasty Thanksgiving bird? Butter, of course!  Get the ingredients and directions here.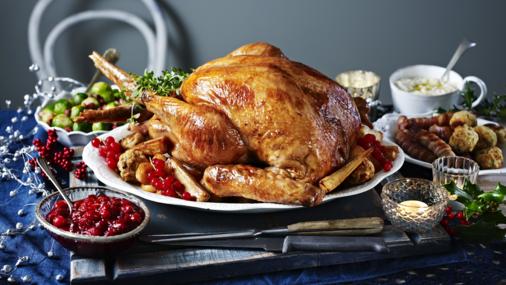 2. Apricot & Chestnut Stuffing
A little bit sweet, a little bit nutty… This apricot and chestnut stuffing is one of my favorite parts of Thanksgiving dinner!  The onion and parsley add just the right amount of savory spice to bring all the flavors together.  Yum-my!  Recipe.
3. Candied Sweet Potatoes With Bourbon
I love sweet potatoes any day of the week, but add some bourbon and serve them candied and I think I could go without anything else for a month.  I think the slight hint of apple cider is the other secret touch.  Recipe.
4. Green Bean Casserole
Almonds, goat cheese, and paprika give this green bean casserole that irresistible WOW factor!  Even your kids will be going back for seconds of this veggie goodness.  Recipe.
5. Best Ever Thanksgiving Rolls!
Flaky but fluffy, buttery, moist, and firm… What more could you want from a Thanksgiving roll?  Bake these bready bits of perfection for yourself following this recipe.
6. Garlic Parmesan Scalloped Potatoes
If you're going to splurge a bit this Thanksgiving, do it with these garlic parmesan scalloped potatoes.  Seriously, you'll be glad you did!  The creamy sauce and ooey, gooey baked cheese will have you adding this recipe to your list of things to be thankful for this year.
7. Sweet Potato Pierogi
If you're open to trying a less conventional side dish this Thanksgiving, you won't regret choosing these sweet potato pierogis!  The sage brown butter sauce is especially to die for!  Recipe.
8. Garlic Parmesan Roasted Potatoes
I hadn't ever heard of hasselback potatoes until 5 or so years ago.  I can't say my first attempt at them was the most successful but they were still so tasty that I've been making (and improving) them for Thanksgiving dinner ever since.  You'll not only create a WOW factor on your Thanksgiving spread but in your mouths as well. I found this recipe a couple years ago and think it's the yummiest one yet.  I love how the potato gets so soft and buttery on the top and has just the perfect amount of parmesan to add an extra kick of flavor.
9.  Cranberry Quince Sauce
We love spreading cranberry sauce on our turkey and rolls in my home.  And nothing beats a homemade cranberry sauce.  We've been really enjoying this cranberry quince recipe for a few years now.  It has all the familiar tastes of normal cranberry sauce but with a bit extra welcome sweetness from the quince.  So good!
10. Twice Baked Butternut Squash 
Bacon lovers rejoice!  Candied bacon is the highlight of this absolutely delicious twice baked butternut squash dish.  Top with parmesan cream and you'll have a show stopping meal.  Recipe here.
11. Sweet Potato Biscuits
These biscuits are so yummy that your kids will think they're eating cookies!  They bake with a golden crunch on the outside but maintain a super light and fluffy interior.  You will LOVE them!  Recipe here.
12. Pecan Pie Bars
You're stuffed and just can't possibly eat one more bite.  But what about that excellent pie you baked?  There's nothing worse than being full but wanting your famous family pie!  Try making these pecan pie bars this year as a solution to your problem.  Make your pie and eat it too!  Recipe found here.
13. Sweet Potato Pie With Cornmeal Crust
Cornmeal might not sound like a sweet choice for dessert, but I dare you to not fall in love with this sweet potato and cornmeal pie this Thanksgiving.  This is especially for lovers of flaky, crumbly crusts.  #TextureRocks!
14. Maple Custard Pie
I was first drawn to this recipe because of my love for custard desserts.  Mix in the maple flavor and hint of nutmeg and you have a creamy, melt-in-your-mouth delight.  Pumpkin pie has become a thing of Thanksgivings past since we discovered this recipe!  Find it here.
15. Leftover Thanksgiving Panini
There's a dozen ways to keep enjoying Thanksgiving leftovers but I particularly love a crunchy leftover panini.  Cranberry sauce, dressing, mustard, a bit of gravy, and freshly sliced Swiss cheese.  Who needs anything else when you have this toasty feast-in-hand?