I have found that one of the most memorable ways to make a statement in a room is to add an accent wall. It's one of the easiest DIY home projects!  The best part of all is that for as much as they leave a lasting impression, most are just as equally easy to create.  Keep reading for 10 inspirational accent walls for any home.
1. Display Panel
Paneled detailing is a great way to create an inspired accent wall!  Not all paneling has to be horizontal or vertical so don't be shy with the actual design.  This is a display panel very worth looking at!
2.  Walk the Plank!
Overlay a painted wall with natural wood planks.  Not only does this create a dual color scheme but it also adds some depth and texture to the wall.  This is the kind of plank I'd be glad to walk!
3. WOODn't This Make A Statement
Create a rich rustic feel to your home by adding a natural wood accent wall.  It will require some prep work and installation but the results are so worth it!  Lady's Little Loves shares an excellent tutorial on how to install the wall.  If you'd like to use pre-treated slats, check out these hardwoods made specifically for walling.
4. Make A World of Difference
Make a world of difference in any room by mounting a mammoth world or city map on the wall. Restoration Hardware gave this wall the perfect accent by leaving some of the wall exposed.  Who's ready for a vacation?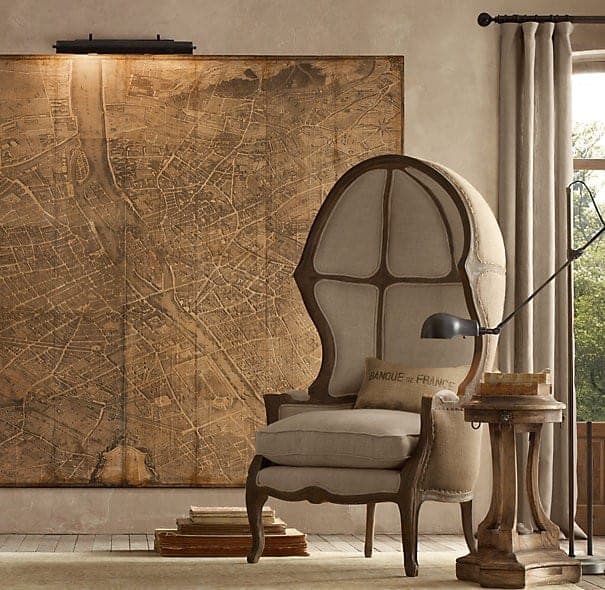 5. Paper Trail
Leave a paper trail with eye-grabbing wallpaper.  The plain furniture against the wall makes it especially punctuated.
6. FABRICated Wall
Fabricate an inspirational accent wall with fabric.  Use it to make an impression as you would with wallpaper.  Idea from Home DIT.
7. Get Pegged
Get pegged with a pegboard accent wall.  Paint it as you would any other accent wall.  I adore this cross stitched look for an inspirational craft room wall!
8. A House Made of Bricks
I'm sure the three little piggies will agree that a brick accent wall is a smart addition to your home.  The painted globe silhouette is particularly memorable!  Using real brick would be quite stunning but Classy Clutter shares how to achieve a similar look with faux brick wallpaper. No one would ever be able to tell!
9. Sidewall Chalk
Skip the sidewalk chalk and opt for "sidewall" chalk instead.  The black alone makes a bold statement but I especially love how you can use the wall for practical purposes as well!  Learn how to apply and care for chalkboard paint from Do It Yourself.
10. All Shingled Out
Single out a wall in style by shingling it out.  Find natural wood shingles at a local hardware or home improvement store and layer them on a wall to give texture where there otherwise would have been none.  How absolutely unique!