There's really nothing like coming home to the comfort and consistency of your own space.  But that doesn't mean it doesn't feel refreshing to liven things up a bit with some redecorating.  Here are 14 super simple ways to redecorate your home in just one weekend.
1.  Paint Furniture
Painting old furniture is one of my favorite ways to redecorate!  Not only is it easy but it can totally change the personality of a room.  I like to buy my furniture pieces from consignment stores and finish them with American Decor Chalk Paint.  I LOVE that stuff!  Get some very helpful tips and ideas from DecoArt.com. You could even learn how to distress your furniture while you're at it!
2. Rearrange Wall Art
Hang or reorganize wall art to make a simple but eye-grabbing statement.  No paint, no glue, no tools… doesn't get much easier than this!  Find an infographic for 9 ways to hang wall art here.
3. Reupholster Furniture
Convert your old worn chairs into something every bum will want to sink into.  Reupholstering seems like it would be such a big job, but once you start, it's surprising just how easy it really is.  Learn how to do the job on your own from Six Seeds.
4. Mirror Frame
Similar to how picture frames draw out more personality from photos, mirror frames are a subtle way to make a punctuated statement in your bathroom.  Learn how to frame off your mirrors here.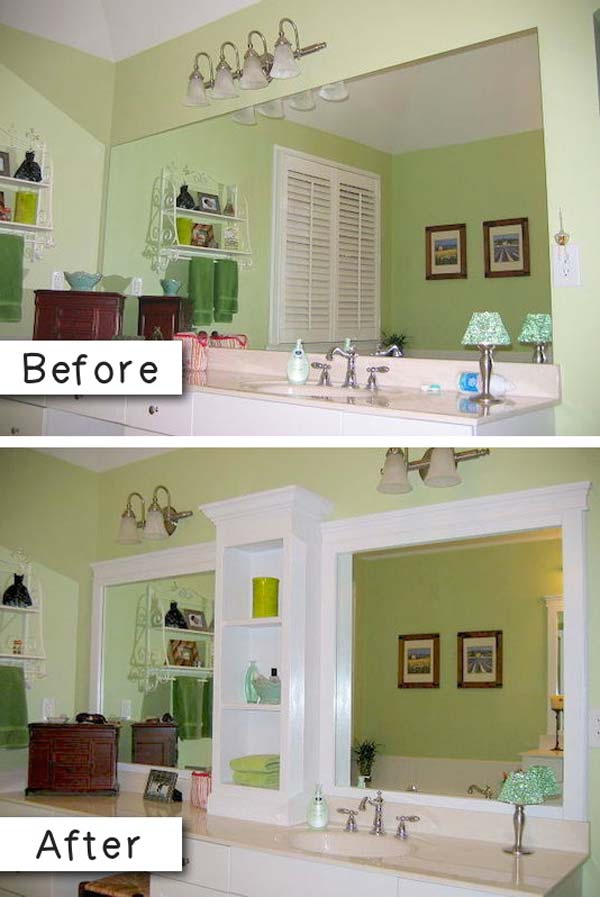 5.  Install Crown Molding
Install crown molding to eliminate all the negative space around and behind cabinets.  It's amazing how much more bright and welcoming a room can become with such a simple remodel job!
6. Cabinet Hardware
Give your cabinets a facelift with new knobs and hardware.  This is such an easy way to add a splash of color without a huge expense or mess!  Find out where to buy high style, low cost knobs and pulls here.
7. Curtains
Another simple way to give a room a whole new look is to hang new or replace old curtains.  You'll want to invest some time hunting for the right fabric, but once you have it, you can have this project done in a weekend, no problem!  3 Little Greenwoods shares how to make curtains here.
8. Turkish Rugs
Dress up your hallways with Turkish rugs and runners.  The deep, rich colors and designs will transform the space with a new sense of elegance.
9. Rearrange Furniture
Rearranging furniture is certainly no new idea for redecorating, but try moving couches and sofas away from walls for a change.  The centralized seating creates a more intimate, friendly atmosphere.
10. Half Painted Walls
Rather than painting entire walls a solid color, opt for half painted or quarter painted walls instead.  The result will be to elongate rooms and give an impression of having more space.  Get inspired with some ideas from Modern Eve.
11. Barn Door
Sliding barn doors are a fun way to add personality to any room.  There's such a large variety of barn doors that you can find the perfect one to fit your home style.  Check out Home Stories A to Z to find the right look for you.
12. Crate Box Shelving
For a fun new way to organize and display decor, make your own customized crate box shelving.  I like to buy my crate boxes from a local farm nearby.  They're easy to repaint any time you're ready for a new look and just as easy to stack in any way you'd like.  Read more about this DIY project here.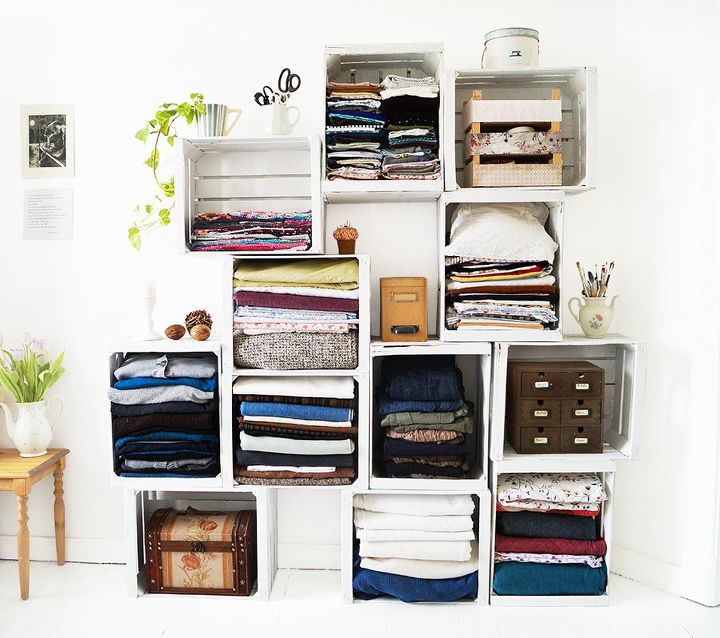 13. Pegboard
Pegboard is an easy way to add both character and practicality to a room.  I love the look and the extra shelving and storage potential is endless!  Learn how to make your own giant pegboard from Ginger Snap Crafts.
14. Lamp Shades
A final way to easily redecorate any room is to change out or recover lamp shades.  Choose colors that will add simple accents or that will otherwise compliment the look of the room.  Head over to It's Overflowing where you can find more information about recovering your own lamp shades.