It's always a bit surprising how hard it is to give up your favorite old blue jeans.  In fact, they end up sitting in your closet for what seems like eternity before you can finally bring yourself to let them go.  But instead of throwing your faithful jeans away, why not repurpose them instead?  Here are 14 ways to repurpose blue jeans and keep them alive!
Ways To Repurpose Blue Jeans
1. What's For Lunch?
These denim lunch sacks are so cute that you almost forget to care what's inside… almost. But they sure do beat the pants off boring old brown lunch sacks! Learn how to make your own from Purl Soho.
2. Sew Square
Sometimes it's okay to be a little square, especially when you make a fabulous decorative pillow like this one. How perfect is this denim sham for summer, or a piece of nautical themed decor? A Pumpkin and a Princess makes the DIY instructions sew easy!
3. Pocket Change
We all have those people who are impossible to buy gifts for. Keep them happy and yourself stress-free by giving them some pocket change this year. I love the 100 Grand bars in there with the gift card. Such a magnifiCENT idea! Idea from Eighteen 25.
4. Red, White, and Blue Denim
Go all out this Independence Day with some red, white, and blue denim decor. This denim placemat will be the star and stripes of your dinner table. Read Today's Nest for more information.
5. Lasso Up!
Lasso up a Western themed party for your Little Cowboy this year. The banners and block letters are perfect! Saddle on over to Lia Griffith for all the DIY party details.
6. Haute Tote
Show some haute couture at the beach or lake this summer with a cute denim tote. Choose your favorite fabric to line the inside. Christie Chase shares more info here.
7. Whale Wishes
Grant your Little Sailor some "whale" wishes this year with this larger than life plush denim whale. Such a surprisingly easy pattern! Harpoon the DIY details here.
8. Candy Striper
Now that's what I call a candy striper! Wrap some candy (or any gift for that matter) with denim scraps for a fun twist on wrapping paper. Get the sweet idea from Just Destiny Mag.
9. A-Door-Able!
Make your front door aDOORable this summer with a fun denim wreath. The flowers are the perfect touch! Learn more at U-Create Crafts.
10. Ironclad Hot Pads
Make some durable and effective hot pads out of repurposed denim. Add some fun fabric to the other side and you have hot pads for any occasion. Read more from Owl Haven.
11. Patch It Up
Patch up your lazy summer afternoons with a picnic on this fun denim quilt. ICandy-Handmade shares a great tutorial here.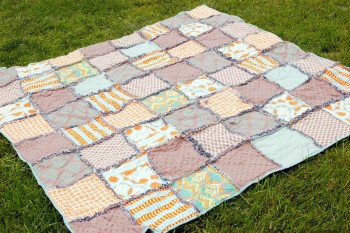 12. In Any Case
Help your kids be prepared for any case at school with this DIY pencil case. It's nice to know right where to look for your pens and pencils and not to worry about pens exploding ink all over your homework. Idea from Crafts On Fire.
13. If the Shoe Fits
I'm all about comfy slip-ons in the summer. These look a lot like some Roxy's you can. $40 savings… This shoe definitely fits! Get the materials and directions here.
14. Rag Rug
Keep the entryway mud and dirt free with this DIY rag rug. The simple directions won't leave you feeling rugged. Get them here from Just Stringing Along.
Do you have any other ways to repurpose blue jeans? Leave me a comment below. If you're looking for more projects, check out my post on 10 lace repurpose projects!