Don't be unlucky this October without a festive Halloween display!  Read on for 13 fang-tastic Halloween mantel projects.
1. Lose Your Head
Here's a Halloween manteldisplay that'll have have heads rolling.  Use apothecary jars to display creepy sights and pumpkins.  The cobweb lace is a perfect subtle touch underneath.  See Lolly Jane for more.
2. Bats All Folks!
Make a spooklacular statement with this batty mantle. I like how the decor pieces create a graveyard scene.  Lillian Hope Designs shares more details here.
3. Greens & Screams
Greens and screams inspire this mantle display.  Pull together items with hints of a particular color and let them shine against otherwise black and white decor.  Finish the look with terrifying embroidery and framed poems.  See more at Positively Splendid.
4. Witchful Thinking
Gather your broomstick and trunk and let the owls lead the way.  This magical mantle display looks like it's ready to board the Hogwarts Express.  Image source.
5. When Pumpkins Glow
There is magic in the night when pumpkins glow with candlelight.  Let pumpkins share the show for this black and orange sight!  The pumpkins may be the pop of color on this mantle but they don't distract from the perfect haunted village display.  Image source.
6. Something Wicked This Way Comes
Make your own no-sew mantle banner for this wicked display.  Get the creepy details from Close to Home.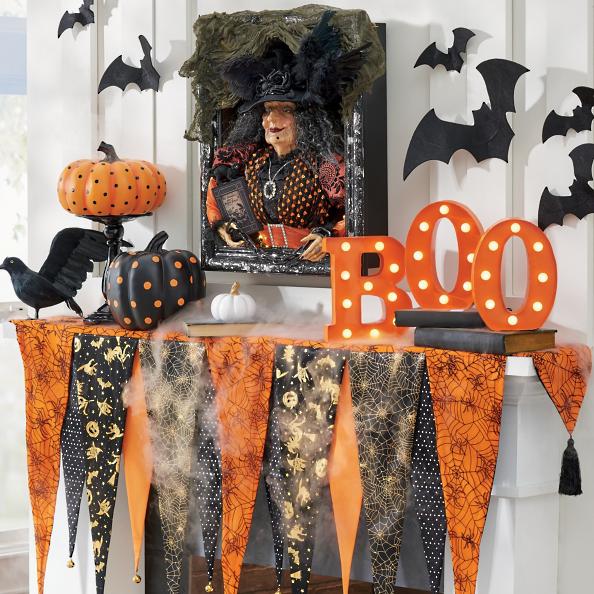 7. Time for All Hallows Eve
Use the clock already above your mantle to help tell this eerie tale.  Be sure to include decor of differing heights.  I also like how the banner is uneven.  Source.
8. Close the Blinds!
It may not be a scary Halloween mantle, but it'll have you closing the shutters nonetheless!  Bring in wooden decor such as crates and shutters to make a more "homey" feel to your Halloween mantle display.  Get more information here.
9. Show Your Spirit
This mantle display will really show your Halloween spirit… literally!  Trap a ghostly spirit in a mirror to include with your other supernatural sights.  Source.
10. A Page From the Books
Take a page from the books to inspire your Halloween mantle this year.  Use book pages to make a custom haunted banner to hang above your mantle.  Learn how from Spread Joy Jennuine.
11. No Bones About It
Here's a boney display to dazzle your home this Halloween.  Mix books with smaller holiday decor to create a perfectly dead on look.  Photo source.
12. The Great Pumpkin
If spooky and haunted aren't your way to celebrate All Hallows Eve, put the great pumpkin front and center instead.  I could see this working with chalk-paint covered pumpkins as well.  Each pumpkin could have a letter to spell out your favorite October message.  Idea from Refresh Restyle.
13. Get Your Scare On
Here's a bloody perfect mantel for those who love a good scare.  From the blood on the mirror to the creepy pictures, no doubt you'll get your scare on with this mantle display!