1. Wall Art
I saw this map of Paris in a local Restoration Hardware a few years ago and fell in love with the look.  I had seen wall maps before but they always seemed looked either too sloppy or dominating.  This look highlights the map but without demanding all the attention in the room.  Keep in balanced!  Learn how to make your own for under $100.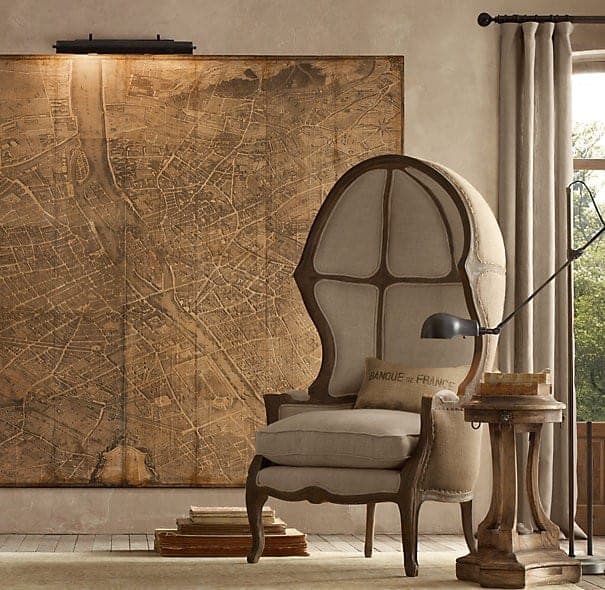 2. Drawer Liner
Cover the inside of your drawers with carefully trimmed maps.  This would work in a chest of drawers, office drawers…  just about anywhere in the house!  Where will you put your's? Image source.
3. Block Letters
Decorate a room with map letters.  Mine would spell out LONDON.  That way my happy place would always be close by.  Learn how to make your own block letters here.  What will you spell out?
4. Map Pallet
As an alternative to displaying a map in a frame or directly on the wall, use a wood pallet instead.  I especially love the uneven map edges and board sizes.  Find this fun project and tutorial here.
5. Map Lamp
Map your own wanderlust lamp shade using an old map and modge podge.  Get the directions here.
6. Memory Map
How fun is this idea?!  Make a map of memories by cutting out pictures of your adventures around The States.  You could just as easily to do this for Europe or another continent or favorite country as well.  I'd use mine as a bucket-list tracker for visiting all 50 states!  Find the idea on Cut, Craft, Create.
7. DIY Map Clock 
Disney World is one of my ultimate happy places.  Family time, laughter, togetherness, and fun.  To me, there isn't a time when Disney isn't a good place to be!  Show your love for your favorite vacation spot, city, or country by making a map clock.  Learn how from Clever Pink Pirate.
8. Map Coasters
Here's a more subtle way to bring your love of travel into your home.  Make some map coasters for that just-right touch!  Tutorial here.
9. Map Chairs
Put your travels behind you… literally!  Make decoupage map furniture as a way to add some color and adventure to a room.  I can see these going really well in a children's play or study room.  Learn how to make your own from My Altered State.
10. DIY Chalkboard Globe
It must be the combination of the teacher and traveler in me, but I am in love with these DIY chalkboard globes!  I've seen some around over the years, but I like how this one combines the chalkboard with the actual map.  Also, I don't think you can go wrong decorating a home with a globe in the right space.  My DIY project list just got longer!  Thanks to Colors and Craft for the tutorial.