Halloween is coming! It's only a month and a half away, can you believe it? We will lament over the loss of summer soon, but right now, I'm looking forward to all things Halloween decorations! My kids headed off to school today and that's when I knew it was time to seriously start contemplating my Halloween decor situation. I can't decide how over the top I want to take things this year but there is one thing that I have certain: I will definitely be breaking out my DIY fog machine.
I know what you're thinking: DIY fog machine? Is that even possible? You bet it is, but it won't produce as much smoke as a store-bought machine. Here's how to incorporate it into your Halloween decorations.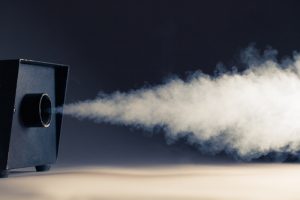 Here's what you'll need to make your DIY fog machine:
-One large candle
-A small aluminum pie plate
-A gallon of distilled water
-A bottle of glycerin (found at a local grocery store!)
-The top of a 2-liter bottle (just cut off the top of a soda bottle, starting at the top of the label)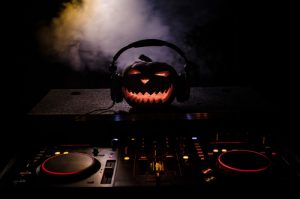 Step One: First and foremost, you'll want to make the juice that makes your machine foggy. In a bucket or bowl, combine one part glycerin with one part water. When this mixture is heated up, it evaporates and turns into a cool smoky vapor.
Step Two: Next, cut the top off of a 2-liter soda bottle. Tape the narrow end to the aluminum pie plate. What you end up with should resemble an upside-down cone. You'll want to use duct tape to secure this, just to make sure things stay secure!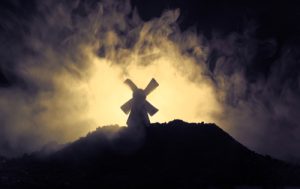 Step Three: Now, you'll want to create a base for your candle. For my base, I used a soup can. After I had cleaned it out and removed the lid (keeping one end intact), I used a drill to drill a few holes around the bottom of the can for added ventilation. Place the candle in the can and light. When lit, you will want to place your aluminum pie tin (with the soda bottle above it) directly over the lit candle. Add a teaspoon of water and glycerin mixture into the soda bottle. The heat from the candle will heat the fog juice, creating the chemical reaction that will make your house super spooky!
Replenish as necessary! One tablespoon of the mixture will go a long way, so make sure that you plan accordingly.