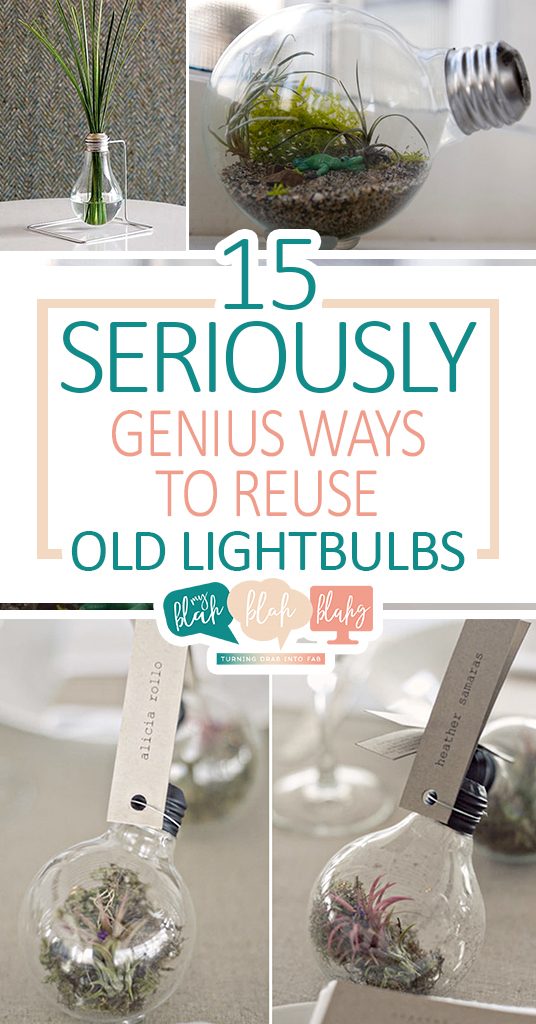 Direct dinner guests to their seats with these unique lightbulb terrarium place cards.  Simply fill a lightbulb with dry moss and other small plants and attach a name card with wire. How original!  DIY.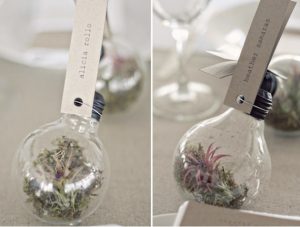 Who needs to buy a vase when you can just use an old light bulb?  Lightbulbs are a totally bright way to display small greens!  Source.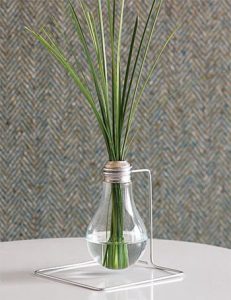 Fill in small spaces with a small terrarium.  What an unexpected and fun way to decorate your home!  Tutorial found here.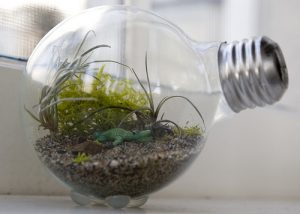 4. Hot Air Balloons
Make these high flying lightbulb balloons using string, fabric, and bottle caps.  These would be perfect for school projects or for a fun display in a child's room.  Learn how to make your own here.
5. Valentine
It's not February, but I couldn't help it!  These lightbulb Valentine's are just too much fun!  "You light up my life".  Design Sponge shares how to make them here.
6. Hanging Vases
If you're looking for a great way to display some greens in your kitchen, try these hanging lightbulb vases.  They'll be up off your counter space but will still add some life and energy to your home.  Idea seen on Etsy.
7. Cozy Centerpiece
This lightbulb centerpiece looks perfect for an autumn gathering on a crisp evening.  Now just wrap me up in a warm sweater with a warm drink and good conversation.  Cozy on over to Warm Hot Chocolate for more details.
8. Pears
Display a rustic kind of fruit in your kitchen bowls with these lightbulb pears.  You'll need some twine, hot glue, and baby twigs.  Get more information from Todd & Lindsey.
9. Light Topiary
Special events call for glamor and shine.  These light topiaries will create all the glamor you could ask for at your next big event.  Ruffled shares how to make these easy DIY projects here.
10. Necklace
Use a gold chain and wire to make a statement necklace.  Now I know what to do with those tiny lightbulbs from cabinet lighting!  Idea found on Etsy.
11. Ornament
It seems like every year there's at least that one gift that would just be so perfect if given with or in an ornament.  Delight your child's teacher, a neighbor, or family member with a gift-in-a-bulb this year.  Or have fun using them to decorate your holiday tree.  Get the tutorial from Kittenhood.
12. Wreath
Use your Christmas lights in a new and unexpected way this year by making a Christmas light wreath.  What a neat idea for those darn strands that always seem to go out!!  Idea from HGTV.
13. Oil & Vinegar
Make your own oil and vinegar bottle drizzlers using lightbulbs and a pourer heads.  I love this idea as an alternative to non-stick sprays!!  Source.
14. Gift
Let someone know what a source of light they are in your life with these cute lightbulb gifts.  Fill them with any tiny yellow candies and top off with a bright tag!  So much fun!!  Source.
15. Lightbulb Garland
I love this whimsical snow globe garland!  Fill the bulbs with tiny winter objects and some salt.  Find the image source here.