Sharpie was founded 160 years ago in 1857 in the state of Illinois.  With a company history like that there's apparently more to being permanent for the company than just their markers!  Here are 10 great DIY projects to show just how fabulous Sharpies can be.
1. DIY Sharpie Wallet
Give your old wallet, clutch, or other leather accessory some fun new pizzazz with a bit of Sharpie flair!  Use just a bit of painters tape and a Sharpie metallic paint pen to make an old wallet feel new again with some inspired creativity.  Love Maegan gives the easy-to-follow instructions here.
2. Sharpie Journals and Matching Gift Wrap
Journals are for keeping some of your most personal thoughts and memories. Who, then, wants to use an impersonal, generic designer journal when you can create a customized notebook?  Use a metallic Sharpie marker to put your personality on your most treasured book.  Lili Blue Boo gives detailed instructions for how to make your own journal and some matching wrapping paper for a perfect gift idea too.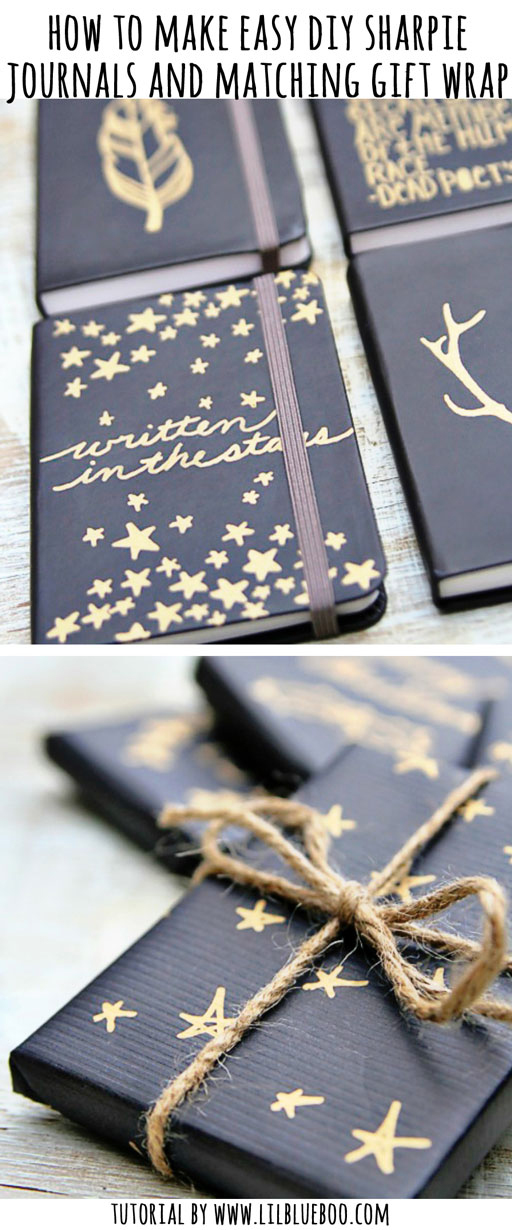 3. Design Inspired Sneakers
Have you ever fallen in love with a design on a product and wished you could wear it?  Wish no more!  Use some basic bright Sharpies, a pair of solid Keds, Vans, or Converse, and your inspired design to create your own custom kicks.
4. Patterned Ceramics
Beat the expense of pottery classes and stores by using Sharpies of your choice to customize some white oven-safe ceramics.  How fun!  Brit.co provides some great instructions here.
5. Doodle-ize Home Accessories
Who ever said doodling was a waste of time?  Sorry teachers, but this DIY project puts your doodling awesomeness front and center in all the right ways!
6. Envelope Envy
"Holey" cow, these envelopes are super fun and cute!  Add an unexpected pop of color to envelope interiors by coloring hole reinforcement stickers with some Sharpies.
7. Watercolor-Inspired Throw Pillows
Remember when mom always said you had to color with markers at the kitchen table?  Well…sorry mom but we're bringing the markers to the couch for this DIY project!  You'll need some cotton swabs, rubbing alcohol, solid throw pillows, and colorful Sharpies that will complement your living room.  Find the instructions here at Brit.co.
8. Get Your Mug-Geek On!
Come on… Who doesn't love to geek out on their favorite book or movie?!  These theme-inspired mugs are the perfect way to cast the Muggle aside and be one with the force!
9. EGGcellent Decor!
It's no "yolk" how these Sharpie-decorated eggs can create some truly festive spring time center pieces and decor!  Instructions and additional ideas can be found at mommyrantings.org. 
10. Kitchen Organization
Use Sharpie paint pens to add that oh-so-perfect personal typeface to clear glass jars for that always-needed kitchen organization.