Here are a few of my favorite holiday cookie recipes. For the full recipe, and the project credit, click the links in the header!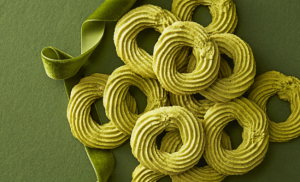 Ingredients
1/2 c. (1 stick) butter softened
1/2 c. sugar
4 oz. cream cheese, softened
1/4 tsp. salt
2 oz. white chocolate, melted
1 large egg
1 tsp. vanilla extract
1 1/2 c. all-purpose flour
1 tbsp. plus
1 tsp. matcha green tea powder
Directions
Preheat oven to 350 degrees F. With mixer on medium speed, beat butter, sugar, cream cheese and salt until smooth. Beat in white chocolate, egg and vanilla, stopping and scraping down side of bowl occasionally. With mixer on low, beat in flour and tea until just combined.Transfer dough to large piping bag fitted with start tip. Pipe onto large cookie sheet into 2 1/2-inch-round wreaths, spacing about 2 inches apart. Bake 15 to 18 minutes or until golden around edges. Let cool on cookie sheet 5 minutes. Transfer to wire rack to cool completely. Cookies can be stored in airtight containers at room temperature for up to 1 week.For Cream Cheese variation: Omit matcha. Dip cooled cookie in melted white chocolate, if desired.
2.  Thumbprint Cookies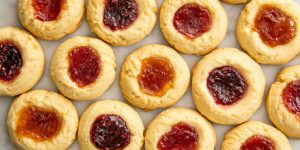 Ingredients
1 3/4 c. all-purpose flour
1/2 tsp. baking powder
1/2 tsp. kosher salt
3/4 c. butter, softened
1/2 c. sugar
1 large egg
1 tsp. vanilla
Assorted jams, for filling cookies
DIRECTIONS
Preheat oven to 350º and line two baking sheets with parchment. In a large bowl, whisk together flour, baking powder, and salt.In another bowl, beat butter and sugar until pale and fluffy, 5 minutes. Beat in egg and vanilla, then add dry ingredients in two batches until incorporated.Using a small ice cream scoop, scoop 1" balls onto prepared baking sheets. Press a thumbprint into center of each ball, 1/2" deep. Fill with a small spoonful of jam.Bake until edges of cookies are golden, 13 to 14 minutes. Cool on baking sheets before serving.
3.Peanut Butter Cookies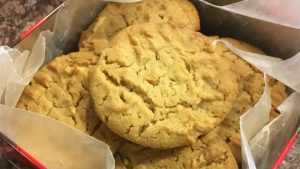 Ingredients
1 cup unsalted butter
 1 cup crunchy peanut butter
1 cup white sugar
1 cup packed brown sugar
2 eggs
2 1/2 cups all-purpose flour
1 teaspoon baking powder
1/2 teaspoon salt
1 1/2 teaspoons baking soda
Directions
Cream butter, peanut butter, and sugars together in a bowl; beat in eggs.In a separate bowl, sift flour, baking powder, baking soda, and salt; stir into butter mixture. Put dough in refrigerator for 1 hour.Roll dough into 1 inch balls and put on baking sheets. Flatten each ball with a fork, making a crisscross pattern. Bake in a preheated 375 degrees F oven for about 10 minutes or until cookies begin to brown.
4. Milano Reindeer Cookies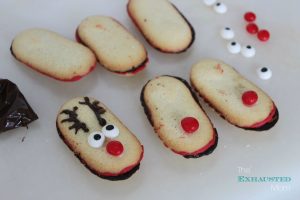 Ingredients
15 Milano Cookies
1/4 cup Dark Chocolate Melting Chips
15 Red Candy Decorations (Red Hots)
30 Candy Eyes
Directions
Place chocolate chips in corner of zippered sandwich bag and microwave 45 seconds.Knead candy to make sure it is melted (if not, heat 15 more seconds).Cut tiny piece off of corner to pipe.Use as "glue" to affix eyes and nose to each.Pipe antlers above eyes on each cookie.Allow to set before serving.
5. Melted Snowman Cookies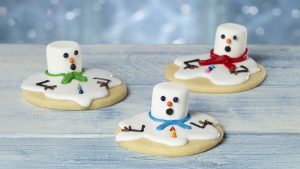 Ingredients
Royal Icing:
4 egg whites
8 cups confectioners' sugar, or as needed
1/4 cup lemon juice, or as needed
Cookies:
24 sugar cookies
24 large marshmallows
1 (.75 ounce) tube black decorating gel
1 (.75 ounce) tube orange decorating gel
75 silver nonpareils, or as desired (optional)
1 (.75 ounce) tube red decorating gel (optional)
1 (.75 ounce) tube green decorating gel (optional)
Directions
Beat egg whites lightly in a large bowl using an electric mixer until frothy. Slowly beat enough confectioners' sugar into egg whites to make icing that will hold shape; blend in lemon juice until desired consistency is reached.Arrange cookies about 1-inch apart on a large sheet of waxed paper. Spread icing onto each cookie, allowing icing to drip over edges to look like melting snow.Grease a microwave-safe plate. Place 1 marshmallow onto plate.Microwave marshmallow until it starts to puff up, 20 to 30 seconds. Immediately place marshmallow on the edge of 1 cookie while the icing is still wet to look like a melted snowman. Repeat with remaining marshmallows and iced cookies.Decorate 'melted snowmen' by piping 'twig-like arms' using black decorating gel on the icing. Make 'coal eyes' and a 'mouth' on the marshmallow using black decorating gel. Make a 'carrot nose' under the 'coal eyes' using orange decorating gel. Make 'coat buttons' by arranging silver nonpareils down the middle of the icing. Make 'scarves' or 'bow-ties' using red decorating gel or green decorating gel.Allow cookies to fully dry before removing from waxed paper, at least 1 hour.
Ingredients
1 cup unsalted butter, softened to room temperature
1 cup powdered sugar
1 large egg
1 teaspoon vanilla extract
1 teaspoon peppermint extract (or 1/2 teaspoon almond extract)3 cups all-purpose flour
1/2 teaspoon salt
1/2 to 3/4 teaspoon red food coloring
Directions
Cream together the butter and sugar in the bowl of a stand mixer with a paddle attachment or with a hand mixer until they look soft and frosting-like. Scrape down the sides of the bowl, then mix in the egg, vanilla, and peppermint. Scrape down the sides of the bowl. With the mixer on low speed, mix in the flour and salt just until no more visible flour remains.
Use a stiff spatula to mix the dough a few times by hand to work in any last bits of flour. Divide the dough and set one piece aside. Add 1/2 teaspoon of red food coloring to the remaining dough and work the dye into the dough with the spatula, kneading by hand, or in the mixer on low, whichever method seems easiest to you. Add additional food coloring as needed until the dough is a bright, vibrant red.
Pat both pieces of dough into 1-inch thick circles, wrap in plastic, and refrigerate for at least 1 hour or up to 3 days. This will make the cookies easier to roll out and shape.
When ready to bake the cookies, preheat the oven to 375°F. Place one rack in the top third and another rack in the bottom third of the oven. Line two baking sheets with parchment or nonstick baking mats.
Remove both pieces of dough from the fridge and unwrap. Pinch off walnut-sized pieces of dough (roughly 2 tablespoons) and roll each into a thick rope about 6 inches long. Pinch the two ropes together at the top and gently twist them together. Transfer the twisted ropes to the baking sheet and gently "hook" the top to create a candy cane shape.
Repeat with the remaining dough. If the dough starts to break as you roll it or become hard to work with, put it back in the fridge to chill for 15 minutes. When all the cookies have been shaped, chill both sheets of cookies for 15 minutes before baking — this helps the cookies hold their shape during baking.
Bake for 10 to 12 minutes, until the bottom edges and the tips of the cookies are just barely starting to turn golden. Cool for 10 minutes on the baking sheet and then transfer to cooling racks to finish cooling completely.
Store cookies between layers of wax paper in an airtight container.
7. Buddy The Elf Cookies
Ingredients
1 bag white chocolate chips (12 oz)
3 c. chow mein noodles
1/2 c. marshmallow bits
1 bottle chocolate syrup
1 jar rainbow sprinkles
Directions
Melt white chocolate in 30-second intervals in the microwave, stirring in between, until melted (about 2 minutes). Pour into a large bowl and toss with chow mein noodles and marshmallow bits.Drop spoonfuls of mixture onto a parchment-lined baking sheet. Top with a drizzle of fudge sauce and rainbow sprinkles and refrigerate until set, about 15 minutes.
8. Santas Trash Cookies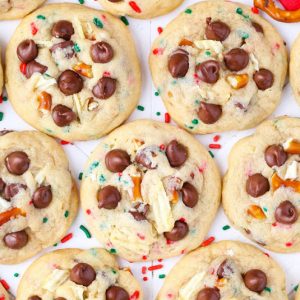 Ingredients
¾ cup unsalted butter, at room temperature
½ cup sugar
½ cup brown sugar
1 large egg
2 teaspoon vanilla
2¼ cup all-purpose flour
1 teaspoon baking powder
¼ teaspoon kosher salt
⅓ cup potato chips, crushed
⅓ cup pretzels, crushed
⅓ cup semi-sweet chocolate chips
3 tablespoons red and green sprinkles
Flaky sea salt, for garnish
Directions
Preheat oven to 350ºF and line two cookie sheets with parchment. Cream together butter and sugars until light and fluffy, 3 to 4 minutes. Mix in egg and vanilla. In another large bowl, whisk flour, baking powder, and salt. Add dry ingredients to wet and mix until smooth. Dough will be thick.
Gently stir in chips, pretzels, chocolate chips, and sprinkles. Make tablespoon size balls of dough. Slightly press them down onto the cookie sheet and sprinkle with sea salt.
Bake until edges are just starting to get golden, 7 to 8 minutes.Remove from oven and let cool 2 to 3 minutes, then transfer to cooling rack to cool completely.