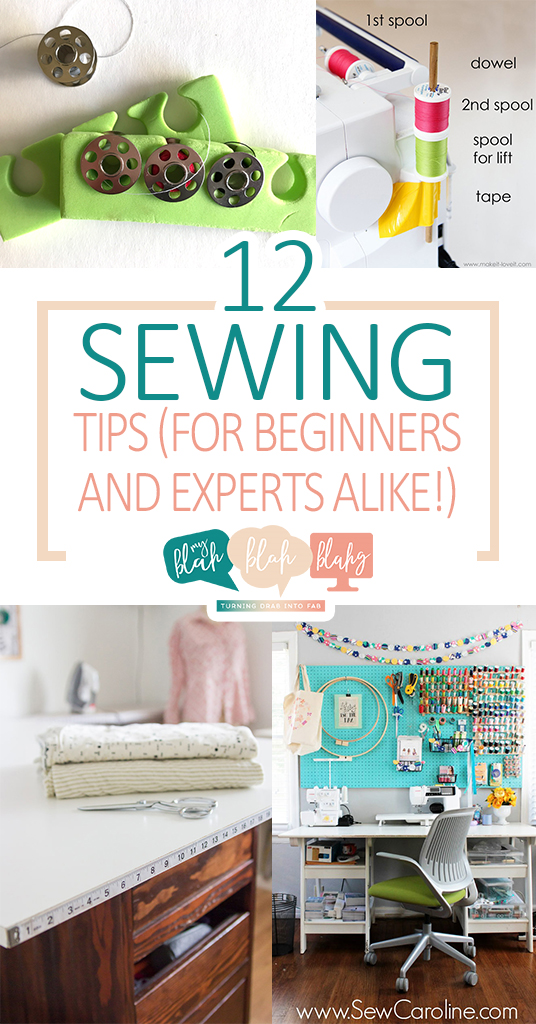 From the novice to the expert, these 10 tips are "SEW" perfect for you!
1. Get Pegged!
Crafting is at its best when you start and stay organized.  Sew Caroline shares her sewing studio and pegboard and how she brought it all to life.
2. Textile File
The Thinking Closet shares this simple but brilliant idea for storing spare fabric.  Fold your fabric over regular hanging files and organize according to your needs.
3. A Needled Idea!
This idea from Andrea's Notebook is sure to catch your needle eye.  To help thread your needles, just spray the tip of your thread with hairspray and you'll soon be poking that eye to your heart's desire.
4. Pinhead!
It can be really annoying when you're working on a project and the straight pins won't go through your fabric without catching.  To prevent that catching, give your pins a slippery coating by sticking them in a bar of soap.  The soap will help the pins slide right through that stubborn fabric.  Read more here.
5. For Good Measure
Free up your hands for cutting by sticking your measuring tape to the side of your cutting counter.
6. On Pins and Needles
To help keep your pins nice and sharp, keep them in a steel-wool stuffed pin cushion.  For DIY instructions about this sharp idea, go to Craftypod.com.
7. It's A DRAW-string
I always get so sad when my hoodies and sweats lose their drawstring.  Maybe She Made It shares how to permanently fix this drawstring dilemma.  Simply pull your drawstring even on both sides of your hoodie or waistband and then sew across the casting to secure the drawstring in place.
8.  Cut It Nice Or Do It Twice
If you cut your fabric incorrectly, it can ruin a project and can become a costly mistake.  All Free Sewing provides a 5-step process for helping to ensure that you cut your fabric properly without making mistakes.  It all comes down to taking your time, following the pattern's instructions, and not rushing through the project.
9.  Great Lengths
How disappointing is it when you see a pattern that you love but it doesn't include your size?  Beat the disappointment by learning how to lengthen or shorten a pattern to your particular measurements.
10. Don't Be So Square
Being square is no fun!  Well, unless you're sewing corners anyway.  To achieve this perfect squareness, there are a few things you can do.  Start by trimming away the corners of the interlinings to cut down on bulk.  You can also trim the corners off at two angles rather than only one (shown in the image below).  Keyka.typepad also suggests tapering the corners.  Check out these and other suggestions here and you'll be all squared away before you know it.
11. I Ain't No Spool
Of all the neat stitches and finishes modern sewing machines can achieve, they're yet to have a second spool holder.  "Why would I need a second spool?" you ask (for those of you new to sewing like myself)  Having a second spool helps you to achieve the double stitch you see on clothing hems just above the sleeve, cuffs, and other edges.  However, because we aren't "spools", and with the help of makeit-loveit, we can get that double stitch look even without a second spool holder.  Simply tape a dowel to your machine and let the dowel act as a holder for your second spool.  How cool!
12. Bobbinators
When toe separators meet bobbins = bobbinators! I don't know what it is about those "movie reel" thread holders, but bobbins seem to be particularly good at hiding themselves.  Help yourself not to lose them by keeping them stored in pedicure separators.  Find the "toe-riffic" idea on craftsy.com.