Ever since I was a little girl and watched Beauty and the Beast for the first time, I have dreamed of having my own library like Beast, complete with sliding ladders and all (Thanks a lot Disney!). I may not have the space for floor-to-ceiling library shelves, but I CAN make my own "belle" library for my real life castle.  Here are 12 great DIY bookshelf projects to bring the fairy tale to life!
1. Crate & Cozy
Get tucked in and cozy with crate box bookshelves.  You can keep your books and decor as simple or busy as you'd like, but there's something about being tucked in an office or library with a lot of books that really appeals to me.  Get the DIY crate bookshelf tutorial here.
2. Decked Out
Create a small wall library in a child's room by using skateboard decks.  My son would love this shelf in his room!  You can often find used skateboards at used sporting good stores or donation centers. Find the tutorial from Instructables.com.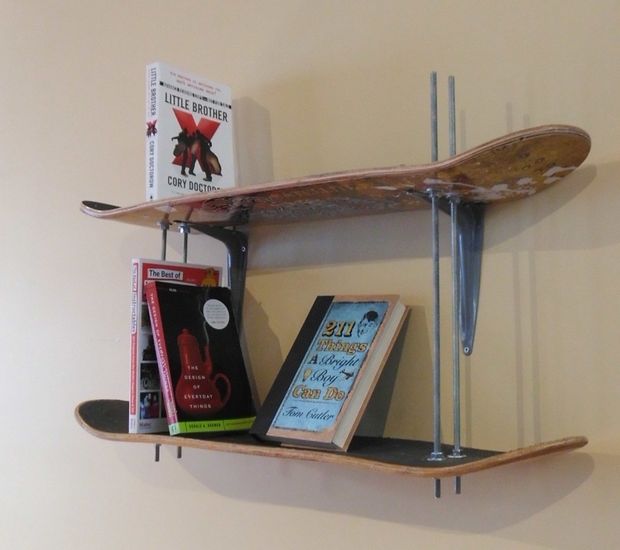 3. Window Book Nook
Create a comfy window nook by adding bookshelves around a window.  A little bench under the window would be especially cute!  Check out this excellent DIY tutorial to construct your own window book nook.
4. Mounted Shelving
Installing mounted shelving is a great way to take up large wall spaces.  The best part of all is that you can space out the shelves as close or as far apart from each other as you'd like.  I like the organized messiness of the uneven shelves shown here by Almost Makes Perfect.
5. From Tree to Book
This tree book shelf would be adorable in a child's room!  Fill it with books of poems to make your very own Poet-Tree (I had to get that in there!)  Lowes provides a tutorial on their website.
6. Floating Books
For a look that truly makes the books the focal point, install a floating shelf system.  Stack them high or low to achieve the look you're going for.  Read more about the DIY project here.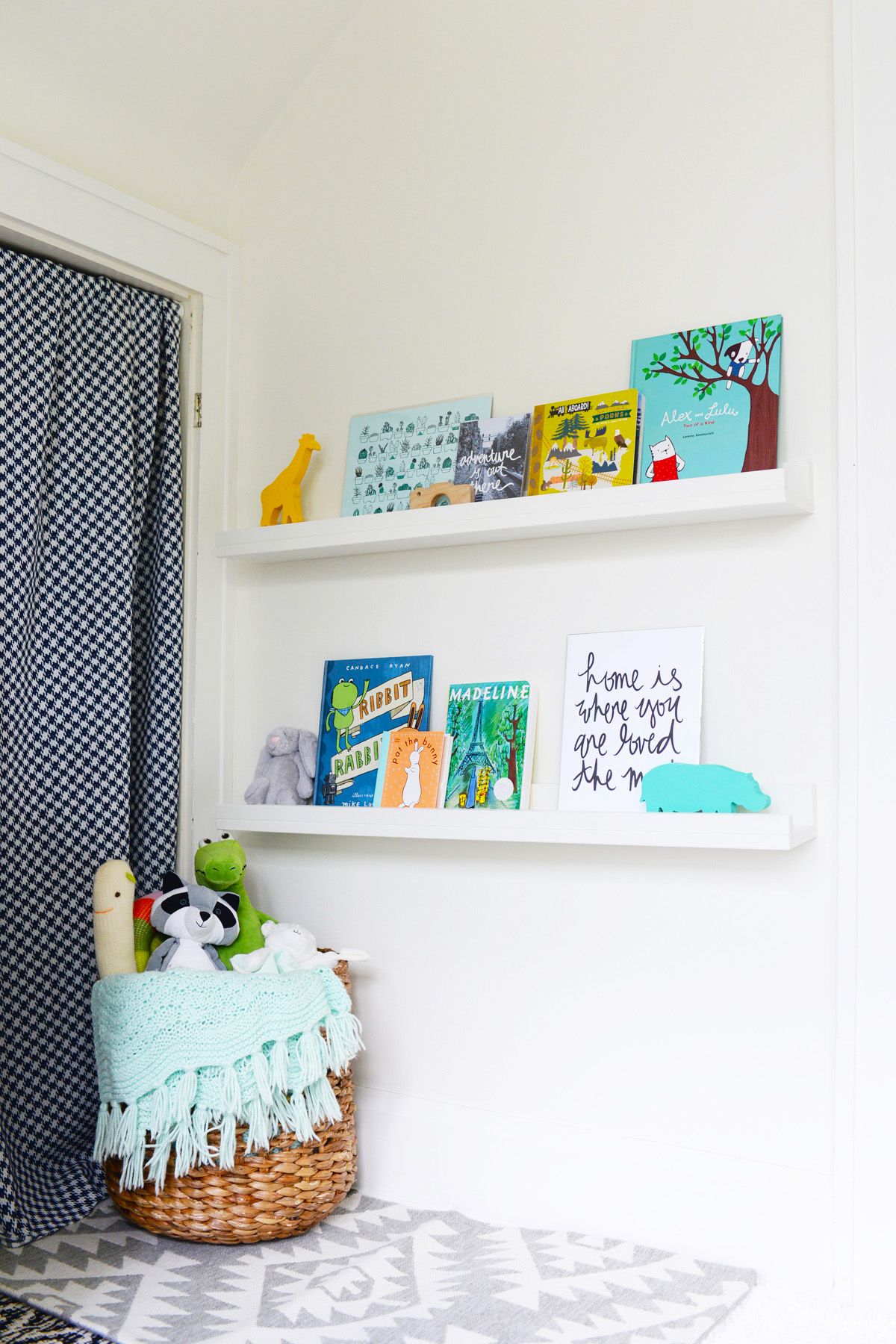 7. Pottery Barn Inspiration
I have always adored the look of Pottery Barn Kids.  It's simple yet personable, organized but still age-appropriate.  Get that great look without the great big price here with this tutorial from Life With Fingerprints.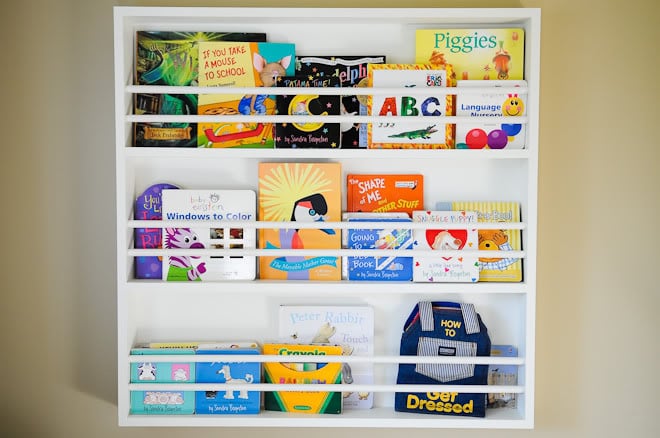 8. Climb Up the Ladder
I knew I'd find a way to get a ladder into my library!  Upcycle an old ladder to create bookshelves in any room.  What a fantastic look for such a little amount of work!  Read more about the project here.
9. Sliding Ladder
My heart just melted!  Make your fairy tale wishes come true with some help from the IKEA Billy Bookshelves and a little patience.  Or a good handyman.  Include as many Billy Bookshelves as will fit your designated wall.  I love how they've put this bookcase near the fireplace but I'd personally include a much cozier chair for those particularly hard-to-put-down-books.  The Makerista shares the wonderful tutorial here.
10. Farmhouse Style
Bring some farmhouse style into your home with this gorgeous DIY bookshelf project.  I love how the muted colors help the books and other treasures really pop!  See how to do this incredible transformation on The Worthing Court Blog.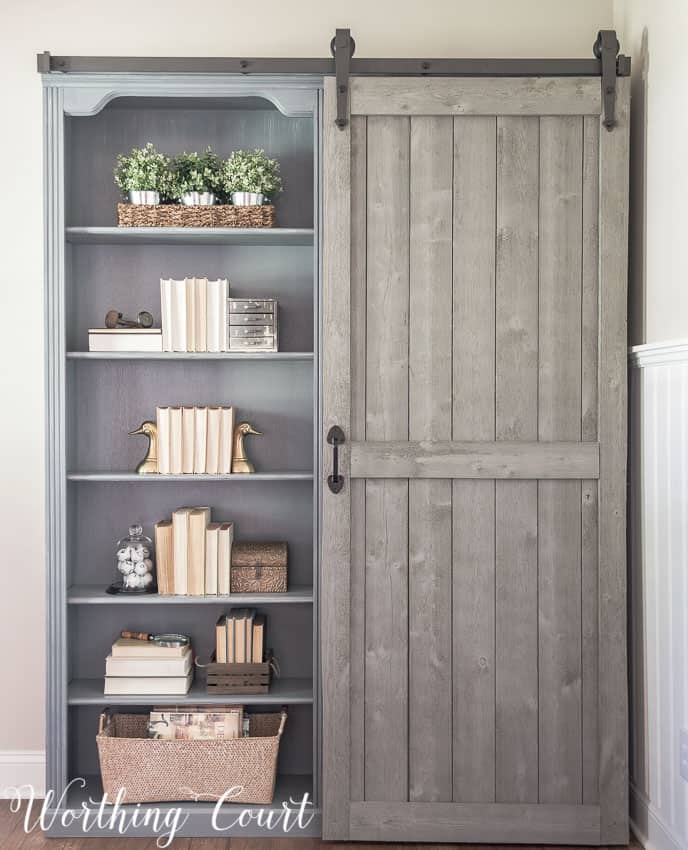 11. Pipe Dreams
This would be a nice bookshelf for an industrial-inspired pad.  Super modern, sleek, simple, and just right.  The Style Eater shares how to make your own here.
12. Books & Blocks
For a true bookstore feeling, think simple and make bookshelves using just concrete blocks or antique bricks with wood slats.  Low cost, easy assembly, and great ambiance… this is DIY at its best!  Source