It didn't matter if it was my first or my last baby, it was always exciting to find out if we were having a boy or girl.  It wasn't until my last, however, that I had heard of gender reveal parties.  My sister-in-law wanted to throw me a party so, somewhat reluctantly, I decided to go along with the idea.  And how glad I was we did!  Now another sister-in-law is pregnant and we want to carry on the fun.  Here are 10 gender reveal party ideas I've run across as I've been helping to plan our upcoming event.
1. Balloon Pop Surprise
 I see a lot of food reveal ideas, and for good reason.  They are all pretty clever!  I really like this idea because it has an extra element of surprise.  Layer and cover your favorite ombre cake with buttercream frosting, hiding the color of the cake beneath.  Then fill white balloons with pink or blue confetti and pop the balloons when you're ready for the big reveal.  How fun!  Idea from Style Me Pretty.
2. Eggcellent Reveal
Not everyone can be in attendance for your gender reveal party. For those who live far away or just can't make it, send them an eggcellent egg reveal package.  Such a cracking good idea!  Get all the details from Style Me Pretty.
3. Quench Thirst Thirst
Quench everyone's thirst of curiosity with this gender reveal idea.  Fill a pitcher with water and ice and mix in a colorless packet of Koolaid or similar.  Idea from Popsugar.
4. Question Mark Piñata
Put emphasis on the element of surprise and mystery with a giant question mark piñata.  What a perfect way to tell everyone your big news!  Learn how to make your own piñata here.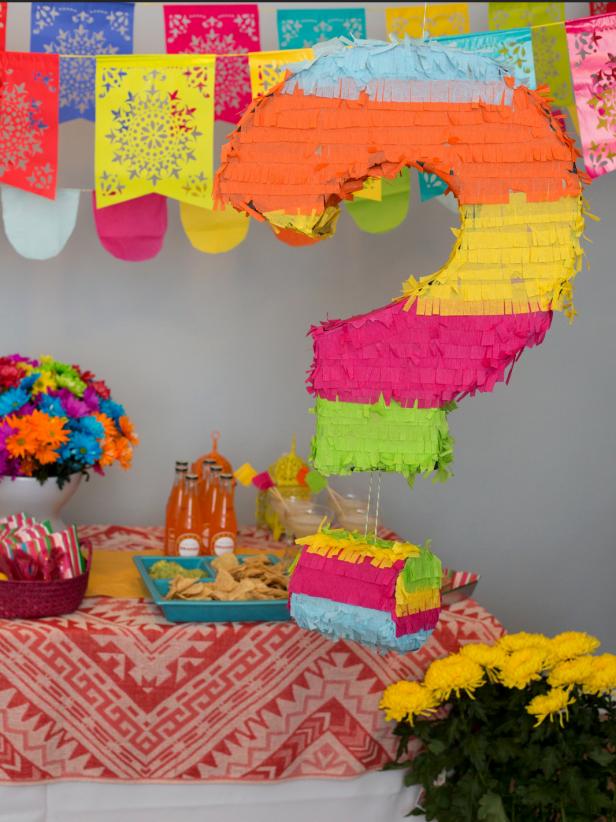 5. Confetti Canons
Confetti canons are an explosion of fun!  Party guests will enjoy the silliness and mess as they help you share your happy news.  Supplies include little more than toilet paper rolls, balloons, and confetti.  Get the DIY tutorial and cute printable from Momtastic.
6. Life Is Like A Box of Balloons
I always like to see Dad get involved with the reveal.  Pretty sure Dad likes it too!  Have him lend a hand by helping you open a box filled with color appropriate balloons.  The paint on the box is a great finishing touch to the reveal.  Source.
7. Scratch and Reveal
Get your party guests more involved in the reveal with these cute scratch cards.  With nothing more complicated than silver acrylic paint and dish soap, this is one super easy and affordable way to share your happy news.  Get more info and the free downloadable card here.
8. Sibling Help
Get Baby's older siblings involved in the excitement of the big reveal.  Buy helium filled balloons in the appropriate color and hide them inside paper bags.  When you're ready for the reveal, have your other children open the bags to let the balloons share the news.  Your other kids will love being part of the fun.  Source.
9. Piñata Cookies
Everyone loves the surprise of a piñata.  Pack all that fun into a delicious cookie instead.  You'll need to find a baby onesie cookie cutter and a bit of fancy knife skills, but the effect is worth it.  Use small candies or sprinkles to fill the middle.  Craftstorming shares the recipe and directions here.
10. Confetti Cake
For a larger, more dramatic version of the pinata cookies, try this moist and sweet confetti cake.  Fill the inside with any variety of pink or blue candies such as M&Ms.  Get the baking instructions from My Honeys Place.