I have a serious love for (and possible addiction to) repurposing and refinishing old furniture. I'm always looking for a new project and I've recently been finding some really great ideas for using old doors. I suppose it's as the saying goes… When one door closes, open another one! Here are 10 things to do with old doors. (It's hard to choose, but #9 is my favorite. How about you?)
Things To Do With Old Doors
1. Entry Bench & Coat Rack
This vintage-style door would be fantastic inside an entry way as a shoe storage and coat rack bench. The shelf on top would also be great for displaying some decor. I especially the knob on the door (Anthropologie sells some of my favorite door/drawer knobs and pulls). Learn how the door was repurposed from Home Talk.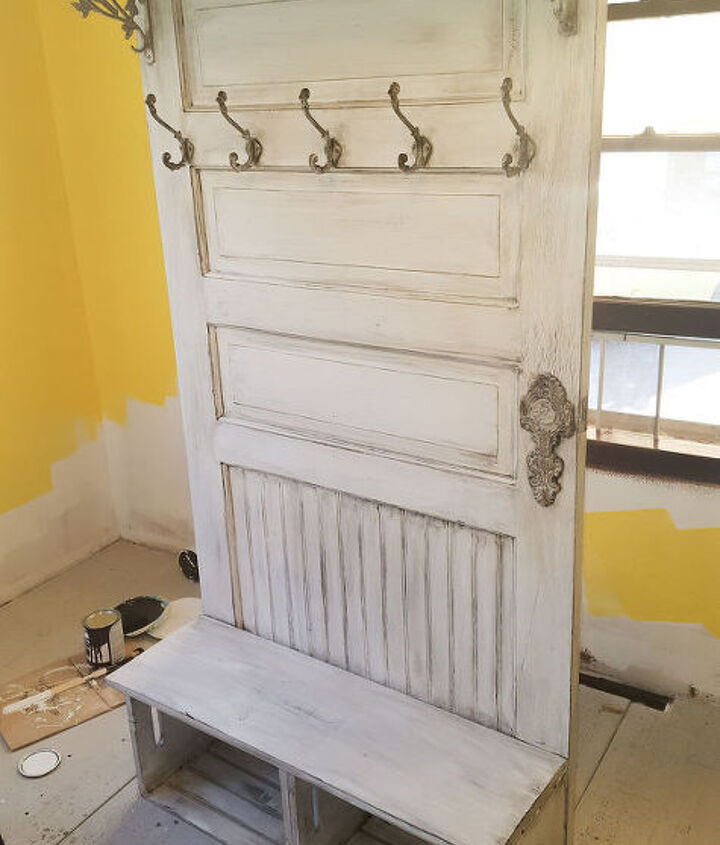 2. Arbor Walkway
Narnia and Wonderland, here I come! This arbor walkway creates such an cozy storybook feeling. You'd always feel like you were about to embark on a grand adventure as you enter your backyard. How fun! No tutorial but picture source found here.
3. Entry Shelf
Welcome guests into your home with this stunning piece. Mount a door sideways, add a shelf on top for added decor space, and add some hooks for coats and scarves. My favorite part is how the windows were converted into picture frames. Learn more about the project from Home Talk.
4. Four-Door Shed
Shut the front door! I'm loving this four-door shed. It's perfect for keeping just the tools and supplies you need without becoming a dumping space for items that really should just be thrown away. Learn more here.
5. Porch Swing
Some of my favorite memories are from warm summer evenings spent on the porch swing at my childhood home. But for as much as I loved that porch swing, I can't say it had the unique style that this swing has. Be done with manufactured "sameness" and create your own beautiful porch swing with ideas and thoughts from Huckleberry Lane.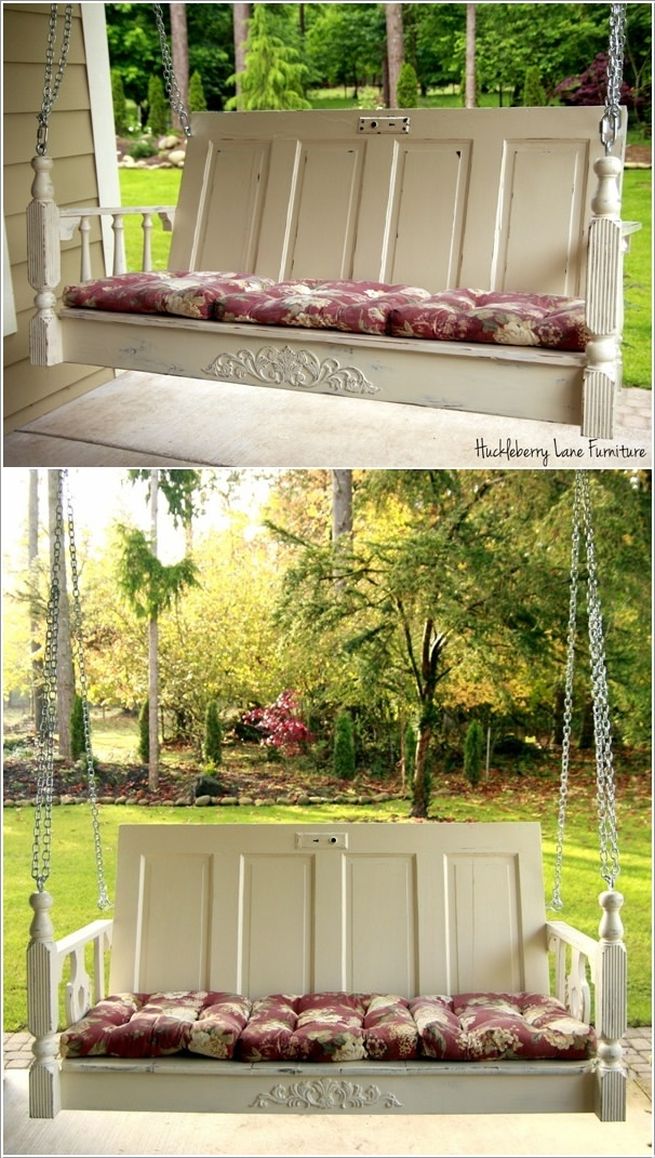 6. Sliding Door
There is just something about sliding ladders and doors that I can't resist. Not only does this DIY project a add personality to an otherwise open doorway, but it can also make for a fun way to bring in another splash of color. It'll take some installation but what a fun aDOORnment to have in your home! Source.
7. Chalkboard Calendar
After sanding and prepping your old door, simply brush on some chalk paint to make this unique chalkboard wall calendar. You could use this to write notes, keep lists, organize your schedule, or just to doodle. Source. This is one of my favorite things to do with old doors!
8. Pot Rack
Hanging pot racks are not only useful storage space, but they can really add a touch of flair to just about any style of kitchen. Choose the right door to match your unique style and get the basics for installing a ceiling pot rack here. Picture source.
9. A Door For A Door
I think my favorite ideas are those that are so obvious that most people overlook them. Of course it makes sense to add some wonderful character and creativity to your home by replacing standard doors with those that have more personality! The door handle, curtains, and wreath add the perfect finishing touches!
10. Reflections
Reflect some personality and light into your home with an upcycled door mirror. You'll need to remove some back panels and replace them with a full length mirror. For more home decor ideas, check out this post on where to find affordable home decor!