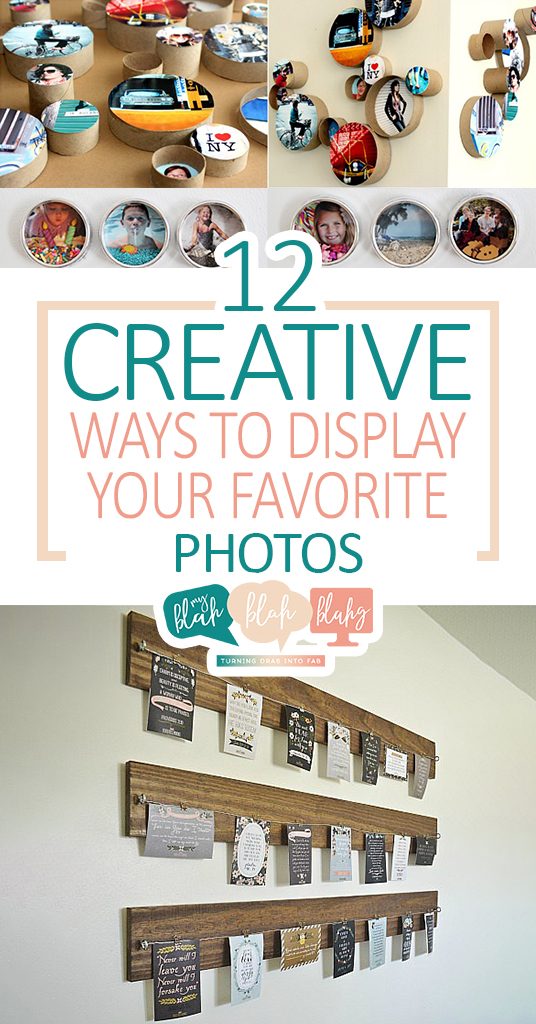 Photo Ladder
I've been trying all summer to find a way to use a repurposed ladder in my home and I think I've found it with photo ladder.  In addition to the frames, you'll need some S hooks, screw eyes, and branches.  That's it!  Get the DIY here.
Cardboard Frames
Glue photos to cardboard boxes to make a unique wall collage.  I like how some photos are on the outside of the box while others are on the inside.  Tutorial found here.
Shadowbox Magnets
Keep your happy memories close by on your fridge or magnetic bulletin with shadowbox magnets. These are such a fun way to keep tiny items from a special day.  Crafts Unleashed shares a tutorial here. 
Wood and Wire Display
These wood and wire displays are great for rustic and barn-style homes.  Stack two or more wood slats on a wall to fill in empty space.  Learn how to make this easy photo display from Liz Marie.
Wood Clipboards
The organizer in me loves this wooden clipboard photo display!  It makes changing out the pictures so easy and it makes for such a clean display.  Love Grows Wild shows how to create one in your own home.
Door Windows
Repurpose a door with windows as a showcase for your photos.  You can make the display even more useful by adding pegs and hooks at the bottom to create coat racks.  Get the DIY instructions here.
Heart Collage
How cute would this heart collage be in a little girl's room?!  Share all her best memories by gluing pictures to wooden blocks.  Get all the DIY instructions here.
Chalkboard Wall
Here's a great use for a chalkboard wall or display!  Draw some frames on the board with chalk and post your photos inside.  What a unique way to keep your memories!  I Am Doe shares this simple project here.
Wood Gallery
Using wooden squares you can create a fabulous wall gallery.  Simply use 2 sizes of wood squares to put your pictures front and center.  You can paint the wood in neutral or bright colors, depending on your space.  DIY.
Art Canvas
I love when art and photography come together.  Use matte gel to glue some photos to art canvas to display your photos as unique pieces of art.  Rachel Grace Photography shares this fun project here.
Photo Mobile
Here's a super easy way to make a fantastic photo display!  Simply hang your photos and other cut out paper shapes from a branch as a mobile.  Tutorial here.
Wood Ink Transfer
If you're wanting a creative way to display photos without a frame, try transferring your prints onto wood. This fun display is a perfect showcase for all your favorite moments!  Get the know how from eHow.