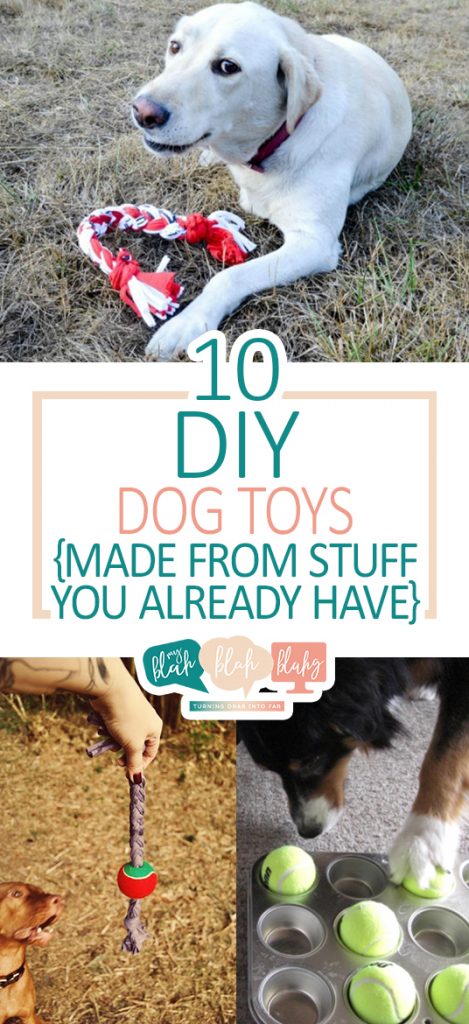 Our little dog Dobby made his way home to us 10 1/2 years ago on Christmas Eve.  We already had a dog at the time and had no plans to adopt another.  We were out doing some very last minute Christmas shopping and stopped into the pet store just on a whim.  There were 5 new puppies in the shop that day.  We held and played with all of them but the moment Dobby was in my arms, it wasn't even a question.  I simply stated a fact:  "We're taking this one home."  And life has only been more complete ever since.  I know some people say dogs are just animals, but I couldn't disagree more.  Dobby is one of us.  He is our brother, our friend, our protector, our personal trainer, and our champion.  So here is a post in honor of my faithful friend who sits here at my feet every morning as I write my blog articles.  10 DIY dog toys made from stuff you already have.
 1. Rope & Ball
Tug-of-war is a favorite in our household.  I'm always impressed with how strong such a little dog can be!  Make your dog a new tug-of-war rope using an old t-shirt and a tennis ball.  Learn how here.
2. T-Shirt Toy
Did I mention that tug-of-war is a favorite in our home?…  Point being, we go through a LOT of ropes.  Here's another DIY tutorial for making Fido's most cherished toy.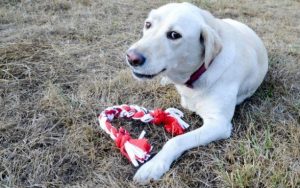 3. Muffin Tin Puzzle
Challenge Fido to do some problem solving with this muffin tin puzzle game.  Trap a doggie treat in the slots of a muffin tin pan using tennis balls as the "lids".  Lay the tin on the ground and let Fido figure out how to get to those tasty snacks!  Read more here.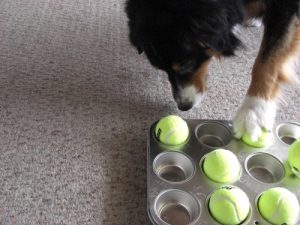 4. Water Bottles and Tees
For as much as Dobby loves to play tug-of-war, he also loves his squeaker toys!  Make your own version of a squeaker toy by wrapping an empty water bottle in a t-shirt.  Get the tutorial from Ammo the Dachshund.
5. Dog-Nip
Cats shouldn't be the only ones to get in on the fun of cat nip toys!  Hide Fido's favorite treats inside a toy ball to make your own version of "dog-nip".  Learn how here.
6. Cereal Box Fun
Hide a treat inside an empty cereal box for some approved destruction time.  Nothing like shredding something to bits to make the day complete 😉
7. Chompers
If you have a serial chewer on your hands, these chomper toys will be worth your time.  Made from rope, these toys will keep Fido busy for hours and away from your shoes!  Instructables.com teaches how to make them here.
8. PUPsicles
Fido wants a popsicle on hot days too!!  Help keep your furry best friend cool on those long summer days with these refreshing treats.  You'll just need a raw hide, some beef or chicken broth, and some water.  Find the tutorial here.
9. Tug-of-War Galore!!
So many knots to choose from!  If knotty ball of fun will make for some excellent tug-of-war galore!  Tutorial found on Instructables.com.
10. Frisbee Fun
Play a classic game of fetch with a softer version of a frisbee.  Dobby doesn't show that plastic toys hurt his mouth but I always like to go with softer toys when possible.  Show some kindness to Fido's teeth by making him his own t-shirt frisbee.  Directions found here.