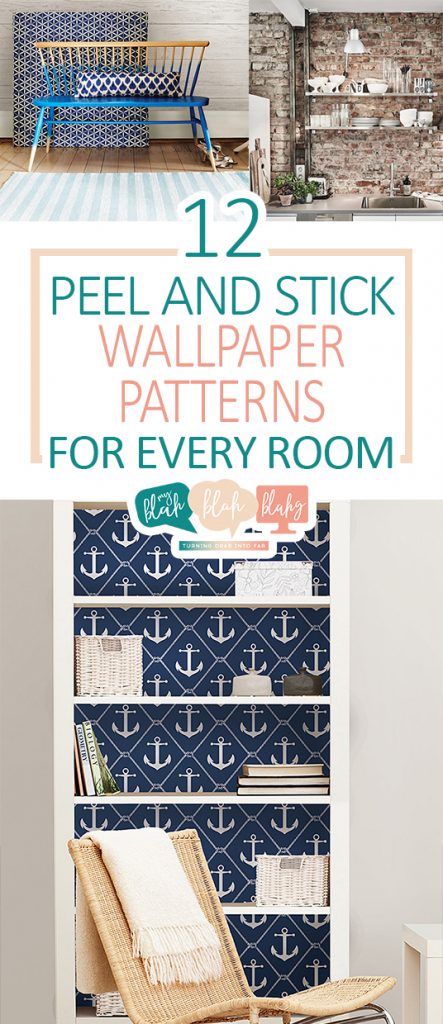 I've recently discovered some fabulous new peel and stick wallpapers.  We're not talking that stiff, odor-absorbing stuff in Grannies house here.  I mean truly style-worthy wall coverings that can complete the look in any home.  There are SO many patterns to choose from, but here are 12 of my favorites.  Which one will you use in your home?
1. Shiplap
I adore wood plank walls!  I just don't adore the cost of installing them.  This Shiplap peel and stick wallpaper is the perfect compromise.
2. Florentine Tile
Although this Florentine medallion tile wallpaper would look great in any blue or sea-inspired room, I especially love how it looks in this kitchen.  The cabinets, counters, and windows help to keep the pattern from being too busy in the room.  
3. Metropolis
Put a big-city inspired accent wall into any room for a punch of modern flair. Idea seen on Fab.com.
4. West End Brick
Brick walls are my ultimate dream!  They can transform an office into a studio and a kitchen into a bistro.  As seen on Wallpop.com.
5. Gypsy Floral
This Gypsy Floral pattern is adorable in a little girl's room!  However, I could also see it being very welcoming on the walls of your family room.  Photo source.
6. Gray Woods
Let nature be your inspiration with this gray woods peel and stick wallpaper.  It makes for a very peaceful gender-neutral nursery and would look great in the laundry room as well.  Find more nursery ideas here.
7. Caravan
I'm not normally one to go too bold with my wall colors and decor, but this Caravan peel and stick wallpaper sure is enticing!  Put on the right wall with some windows and complimentary furnishings, I'll bet these fantastic elephants would add some welcome liveliness to your home.
8. Arrowhead
Arrowhead is a great pattern for bedroom accent walls.  It's another great option for family rooms and living rooms as well.
9. Kensington Damask
This peel and stick wallpaper looks so calming!  What room wouldn't benefit from the soothing tones of blue on this Kensington Damask pattern?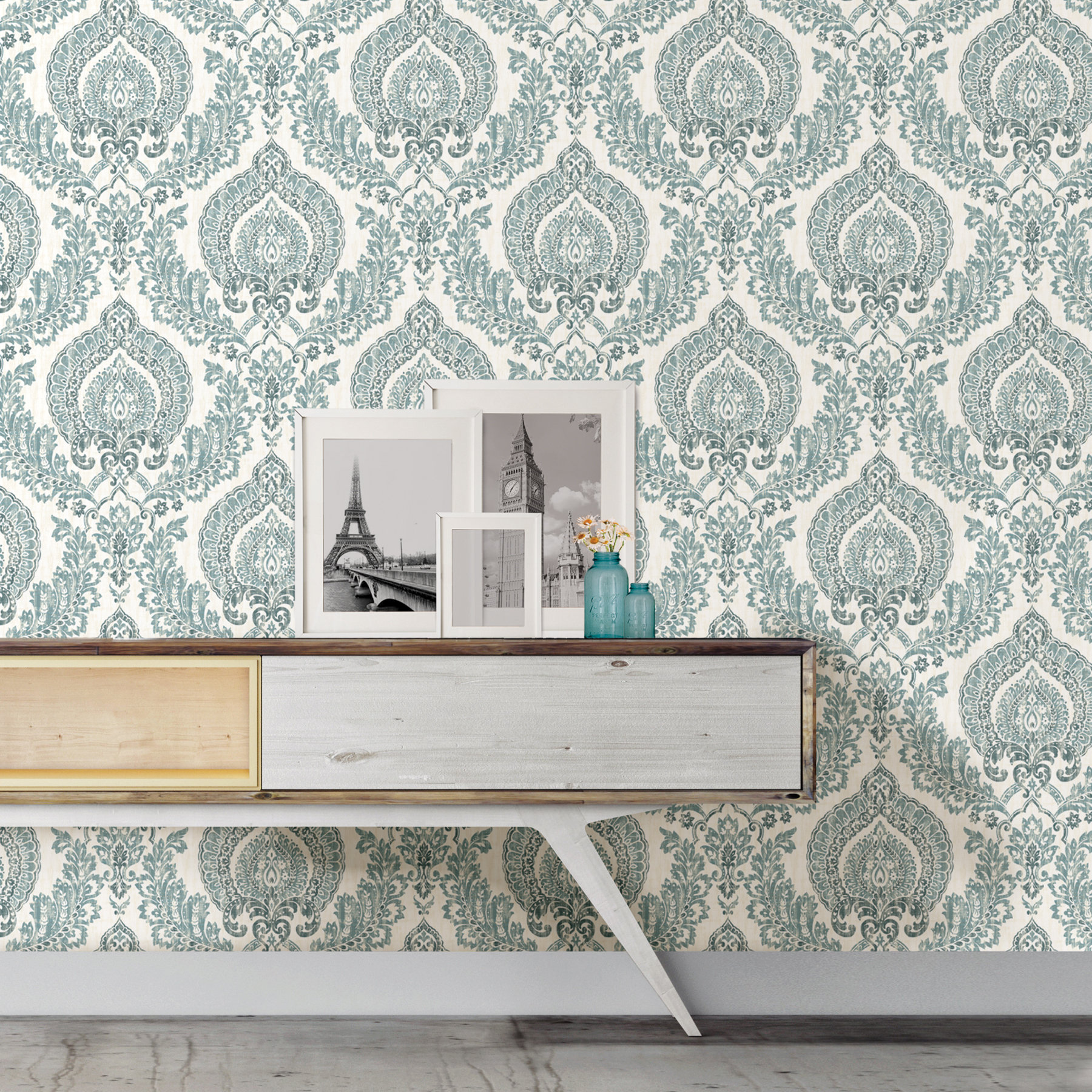 10. Set Sail
Ships ahoy!  How creative to use the Set Sail wallpaper as a shelf accent.  It would be ideal in any nautical-themed room.  I can also see it being really cute in a nursery or child's room.  Bon voyage!
11. Dandelion
If you'd like a touch of color but want a more subtle look, this Dandelion pattern is a wonderful option.  It may be subtle but it's pretty playful at the same time.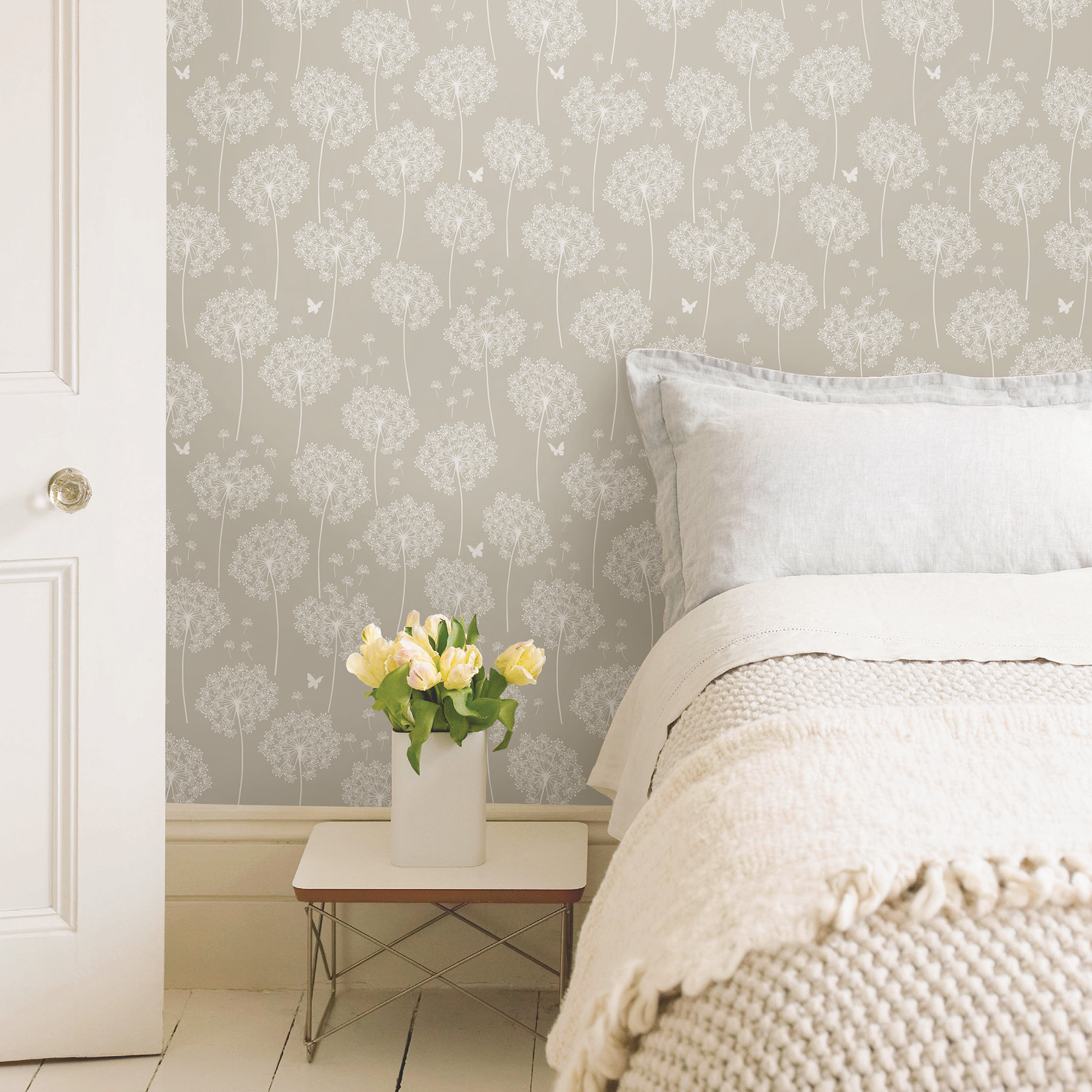 12. Vintage Tile
Vintage is definitely an in style right now.  This Vintage Tile peel and stick wallpaper would look especially appropriate in a bathroom.