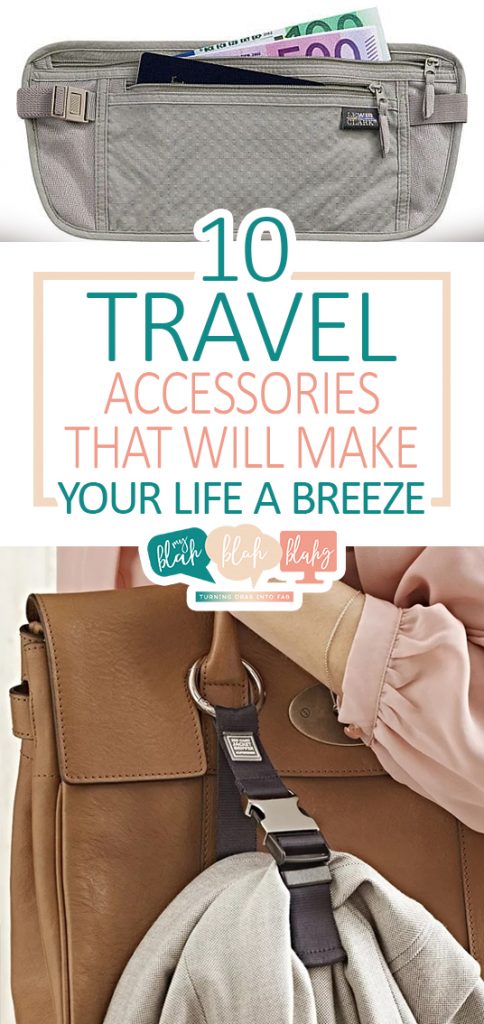 1. Jacket Gripper
Jackets and sweaters are like comfy security blankets during travel. Too bad they can be a bit of a burden to carry around.  Keep your hands free and travel-ready by using a jacket gripper like this one from Lakeland. 2. Micro Umbrella
You never know when bad weather will turn up during your travels.  But it doesn't have to dampen your adventures.  Pack a micro umbrella to keep yourself dry without taking much suitcase space. 3. Portable Power Pack
It can be so hard to be stuck at an airport for a layover and to lose battery power on your devices.  People watching is only fun for so long.  Avoid this airport predicament by having a portable power pack on hand. 4. All-In-One Utility Charger
Why can't products made by the same company ALL have the same charger plug?  But, alas, they are not and we're stuck with a bazillion charger cords instead.  Who wants to travel with all those plugs?  That's right- No one!  An all-in-one utility charger is your answer. 5. Filtered Water Bottle
Depending on where your travels take you, you may not have access to clean water.  And even if you do, it never hurts to take precautions to keep yourself healthy on your travels.  Bring along a filtering water bottle like those made by Brita.
6. Sanuk Footwear
While I do share particular product suggestions, I don't normally tout a single brand.  However, when it comes to travel, Sanuk has my full endorsement.  No matter the reason for your travels, be it casual business or pleasure, Sanuk has the footwear for your trip. They're comfy for walking, light for play, easy to pack, and just waiting for you to check them out.  You're welcome.
7. Noise-Canceling Headphones
I run a classroom with 26 students and am a mother to 3 boys.  Needless to say, I've learned how to tune out noise.  But airplanes are kind of their own beast.  Not only are there dozens or even hundreds of people talking, but then there's the plane engine, the air system, and everything else between.  Nothing beats having a pair of noise-canceling headphones to block out the sounds and keep in the poise.
8. Travel Pillow Scarf
I've never been interested in purchasing a travel pillow.  They just don't seem worth the money for the hassle they are to tote around.  But then I was given a travel pillow scarf as a gift and have become a believer.  It's incredibly easy to pack in my carry on, surprisingly comfortable for sleeping, and, as an added bonus, it keeps me warm with that cold, airplane air blowing on me.  Check them out here.
9. Waist Stash
Not much explanation needed here.  Keep your money close and safe with a waist stash.  Don't underestimate the value of these money keepers!
10. Jewelry Box
Okay, I'm SO not a fashion diva when it comes to travel.  I believe in traveling light and easy so jewelry and other accessories don't normally make it to my suitcase.  However, some travel just requires that you pack dressier outfits and a bit of bling.  I'm also fiercely protective of my wedding ring.  For all these reasons and more, I recommend traveling with a small, suitcase-friendly jewelry box.  Look at these options here.