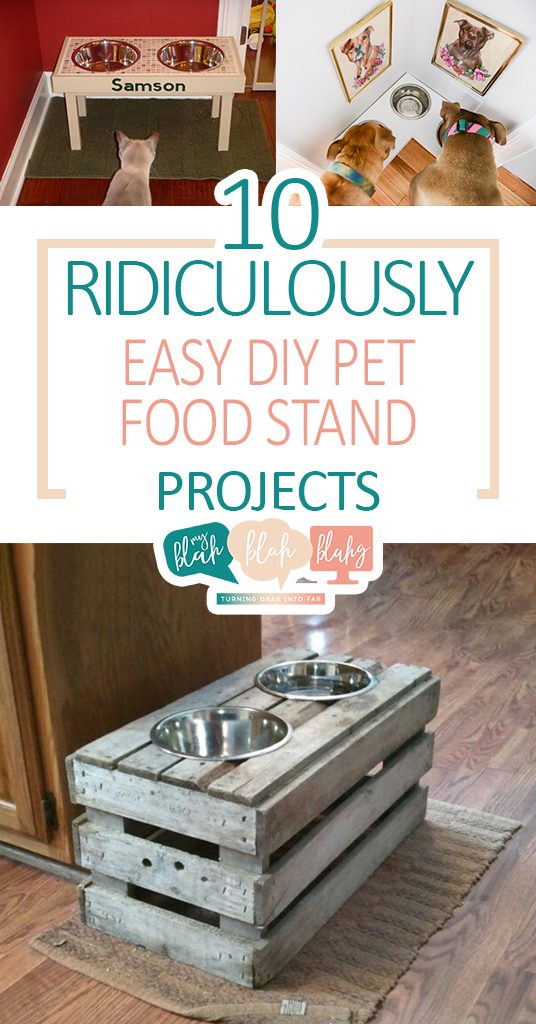 I can not imagine life without our dog.  He brings so much added love and laughter into our home.  So of course we pour the love back out to him in any way we can, including his special food bowls.  I was noticing the other day that his food bowls are looking rather used and that it's time for some new ones.  I thought it would be fun to take advantage of our long summer days and turn it into a DIY project with my boys.  Here are 10 ridiculously easy DIY pet food stands we've found to show Fido or Garfield how important they are in your home.
1. Built-In Bowl Counter
You'll need to have the right corner where you could put this bowl counter, but it would be so nice for that just-right space.  No more kicking or tripping over the bowls and spilled messes as a result!  My boys were especially impressed with how you can put the bowl counter at the perfect height for Fido. Learn how to install one for yourself from Wouldn't It Be Lovely.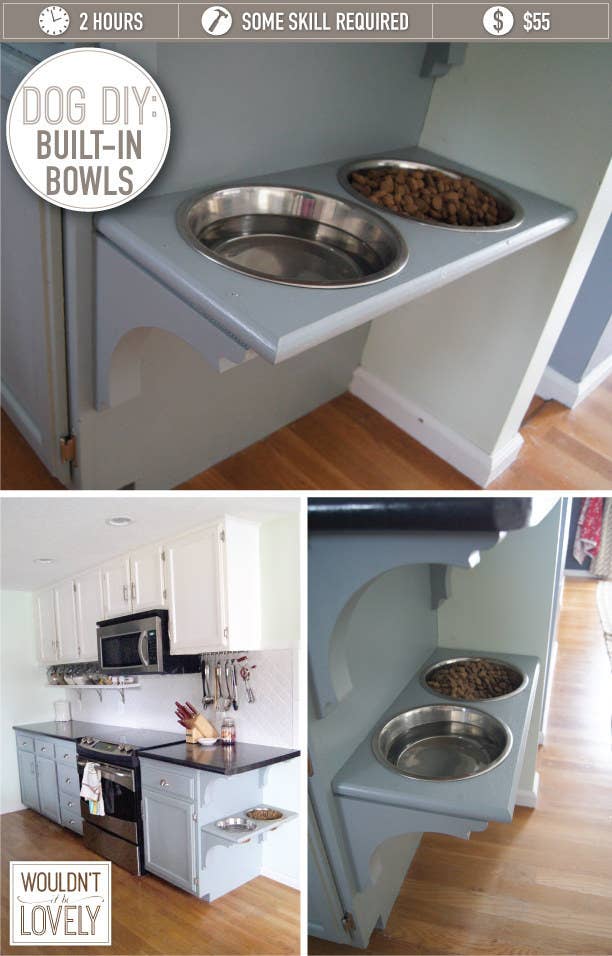 2. Pet Care Station
Keep all of Fido's food and care essentials in one place with a care station.  My favorite part is the food bowl drawer that can be closed when guests come over.  The Design Confidential share the build plans here.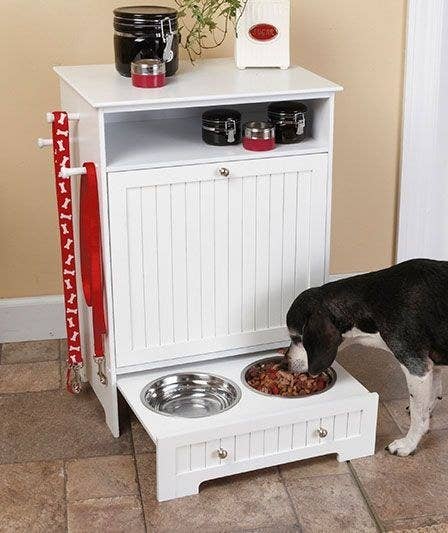 3. Feeding Station
If a full-on pet station isn't quite the right fit for your home, try a smaller feeding station instead. You can keep treats, chewies, and/or toys in the baskets for one stop convenience.  A nice finishing touch for this station would be to have Fido's name monogrammed on the basket liner.  Head to Dream A Little Bigger for more DIY information.
4. Crate Feeder
This crate feeder could not make this project any easier!  Simply cut the appropriately sized holes into the bottom of a rustic crate, flip it over, and voila!  This would be a perfect fit for a farmstyle home in particular.  Source.
5. Raised Industrial Feeder
Here's another raised feeder project but with an industrial feel.  It won't take much more than some ply wood and pipes.  I like the natural wood look but I think some paint would also finish the project off nicely.  Get the DIY instructions from Hometalk.com.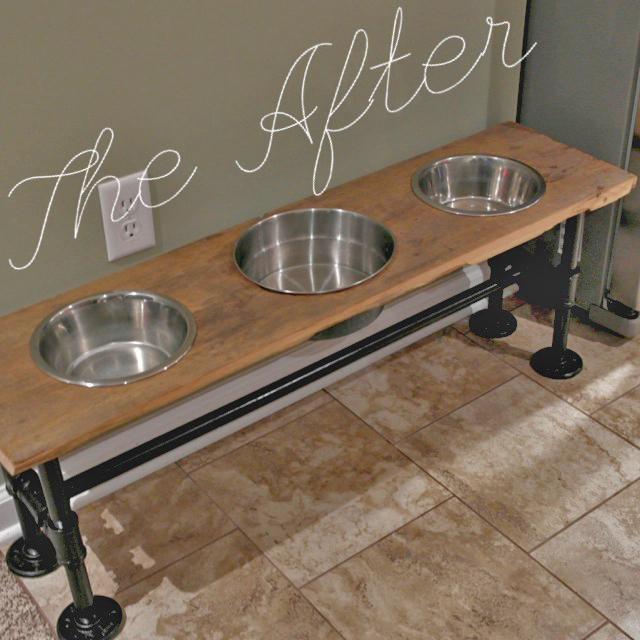 6. Foot Paw Stool
If you have an old foot stool lying around, repurpose it into Fido or Garfield's feeding station.  Another great project for minimal cost.  Tutorial here.
7. Mosaic Feeder
Give a basic raised feeder an artistic flair by finishing it off with mosaic tile.  My boys think this project looks really fun!  Get the instructions from Ana White.
8. All Packed
This raised feeding station is for the travelers at heart.  Simply repurpose an old suitcase, add some wood, and insert the bowls.  Source.
9. Corner Station
Here's another wall-mounted feeding station that's more suitable for any room.  I like how this keeps Fido or Garfield close by for meal time but not in the way.  Yellow Brick Home share more details here.
10. Picnic Time
Use an old picnic basket to create a fun foodie themed raised feeder.  Consignment and donation stores often have picnic baskets for sale if you don't have one on hand.  How nice is it that you can keep extra food below the lid?  Sew Many Ways share her tutorial here.