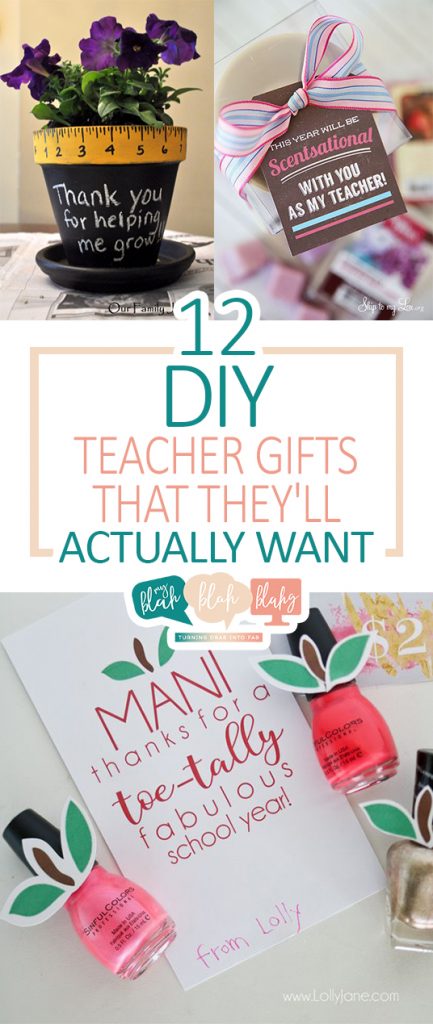 I come from a line of educators.  Elementary teachers, professors, university deans… you name it.  I didn't think it would, but eventually the teaching gene surfaced in me as well.  My career life has been mostly spent in the classroom working with wonderful students.  I have put A LOT of time, energy, stress, LOVE, and, yes, money into making sure my students are properly taught and prepared for their future.  I know how much it means to a teacher when parents and children acknowledge the work educators do for their students.  It doesn't require much, if any, money to show your appreciation for teachers.  A little extra thought DOES go a long way though.  Think outside of traditional candy and food ideas (We work with children.  There's plenty of that around already!).  Here are 12 DIY gifts teachers will actually want.
1. Picture Perfect
Movie theater gift cards or certificates are ALWAYS appreciated by teachers!  Teaching never stops.  Not on weekends, and not even really over the summer.  There's always something to plan, always something to be preparing.  It's so helpful to already have that reason to put the grading aside and remember to focus on a little relaxation time for a few hours.  Redbox gift cards are also a great movie gift idea!  Get the free Picture Perfect printable here.
2. Gift Card Mania!
A teacher will NEVER be disappointed when given a gift card!  Truth is, we'll probably use them to buy more school supplies for our students, but that's why they're so appreciated… we don't end up spending so much of our own already small paychecks.  BUT, we do also use gift cards to spoil ourselves, and a teacher is always grateful for that.  Hip 2 Save shares a variety of free cute gift card holders for Target, Amazon, movie tickets, and your teacher's favorite coffee shop.
3. Mani Thanks!
Share your "mani" thanks for your child's teacher with this cute mani-pedi idea.  You can either give a gift card to a local manicure salon or just put your own manicure kit together with nail polish and other nail care products.  Find this toe-tally cute idea and free printable from Lolly Jane.
4. Tote-lly Terrific
From homework to teacher manuals to experiment supplies, a teacher ALWAYS has full hands!  Help them out by giving them an ever useful (and tote-lly cute!) DIY tote bag.  You'll find the tutorial and free teacher appreciation printables at Uncommon Designs.
5. Fun in the Sun
Help your child's teacher prepare for some much needed R & R.  Pull together a summer relaxation kit with items such as a beach towel, flip flips, sunglasses, sunblock, and reading material.  None of these items need to be expensive designer-quality… the gesture and dollar store items will go a long way to make a teacher feel appreciated!  Get more info here.
6. Bucket List
Here's a fun and affordable gift idea from Landeelu.  Fill a bucket with small gifts, candies, and/or a gift card to show your teacher what a great year you had.  You can often find buckets, pails, and small gifts at Target's dollar section.
7.  Plants & Flowers
Many teachers will appreciate a potted plant or flower for a gift.  Have your child decorate or personalize the pot and it'll mean that much more to Teacher.  My favorite plant gifts are those that I can replant at home and keep for longer than a flower in a vase.  Garden plants and herbs can be really fun options.  Teachers like being reminded of their fantastic students even after they've moved on to higher grades.  Source.
8. Ribbon Lanyard
With increased security at schools, most teachers are now required to wear ID badges.  These badges also serve as keys to get access into the school.  To keep those badges close at hand, lanyards have become a necessary part of a teacher's daily "uniform".  Lanyards get well used throughout the year and quickly become frayed and dirty.  Your child's teacher will definitely appreciate getting a new lanyard as a gift!  Learn how to make an easy DIY ribbon lanyard from My Crafitly Ever After.
9. Stationary Kit
Teachers have more than enough Post-its and other note taking paper.  One thing we can always use more of though are Thank You cards or other blank cards.  I always keep a stack of Thank You cards in my desk and I constantly go through them.  Your child's teacher will love getting a super useful stationary kit.  Source.
10. Scentsational Teacher
Between sweaty kids, old carpet, and dirty air vents, classrooms are always in need of a good air freshener!  Help keep bad smells at bay in your child's classroom by giving Teacher a yummy smelling candle.  As a word of caution though, many schools do not allow open flame candles.  Teachers like to use candle burners instead like those sold by Scentsy.  Get your free "scentsational" printables from Skip to My Lou.
11. Book Bouquet
One of my absolute favorite gifts to receive is a new book or two.  These can either be for personal use or, even better, for Teacher's classroom library.  No need to give new books.  I love getting used books from a local donation center or used book shop.  I often walk out of my local donation center with ten or more books for under $5.  Any teacher would be in heaven if they received a DIY book bouquet as a gift!  I suggest finding books that are at the appropriate reading level for the grade.
12. No Sew Fleece Blanket
Although I can honestly say that I've loved and appreciated each and every gift I've received from students, my all time favorite teacher gift was to receive a no-sew fleece blanket.  The student who gave me the blanket had gone to the fabric store with his mom, carefully selected the material himself, and helped his mom to tie the edges.  I have literally used that blanket every night since receiving it as I work or rest on the couch.  Other blankets I've received have also made their way home with me or are very loved parts of our classroom library.  This gift idea will be a definite hit with any teacher!  Check out a video tutorial for making a no-sew fleece blanket here.