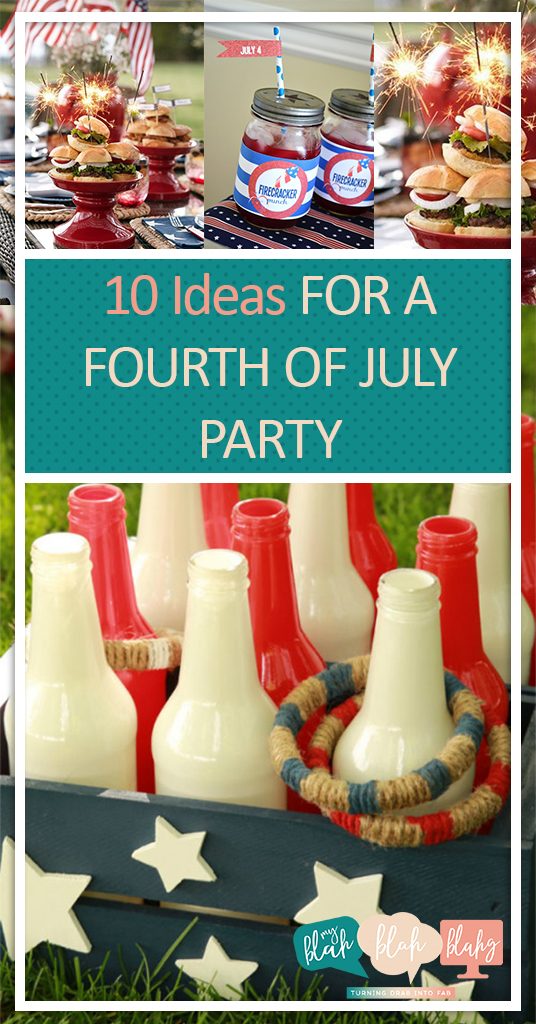 1. Pack A Punch
More like CAN a punch!  Print these festive jar labels and straw banners to give your Independence Day party some one-two punch power!
2. Sparkling Presentation
Wow your party guests with a sparkling dinner presentation.  What a fun way to get your party crackling!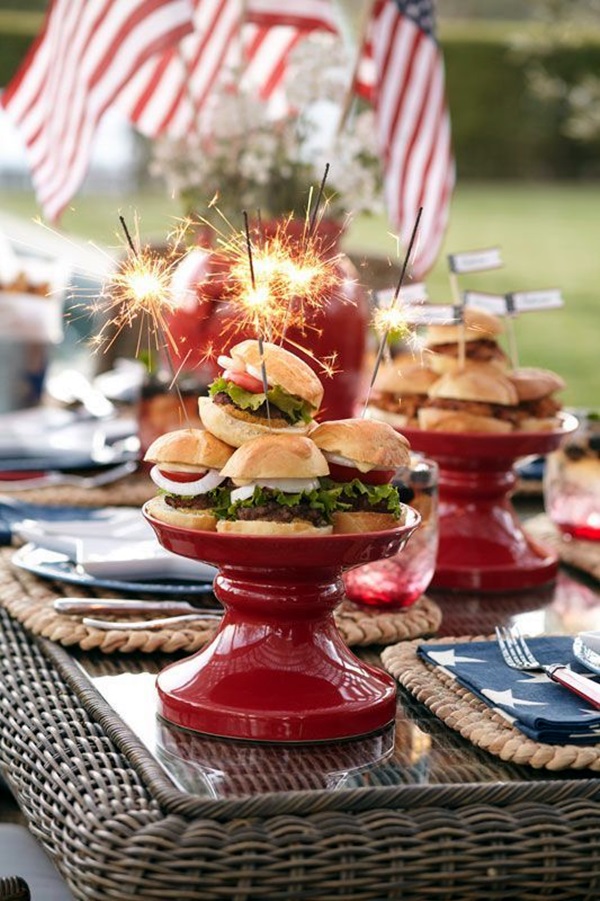 3. Rocket to the Stars
Rocket to the stars (and stripes) this 4th of July with candy rocket favors.  These are not only cute and festive, but booming easy to make as well.  All you'll need are empty toilet paper rolls, tissue paper, ribbon, scrapbooking or decorative paper, and candy.  Party guests will go to the stars when they get a candy rocket of their own!
4. Crack Out the Bottles
Crack out your empty soda bottles to make a patriotic game of ring toss.  Paint equal numbers of bottles red and white and load them into a blue crate box.  Add wooden stars to complete the look.  Even the striped rings match the party theme!  Learn more about how to make your own patriotic bottle ring toss game, from Everyday Dishes.
5. Hop, Skip, & A Jump
Hop, skip, and jump the evening away with some bouncing fun gunny sack races.  Use red, white, and blue pillow cases to make the sacks.  You can also let party guests decorate their own winning sacks using fabric, ribbon, and hot glue.
6. Take Aim
Have a popping good time playing balloon darts at your Independence Day party.  Cover a foam board with red and white striped fabric and then pin blue balloons to the board.  For an extra explosion of fun, fill each balloon with a special prize or treat.
7. Red, White, & Blueberry Pie
No 4th of July party is complete without some red, white, and this delicious blueberry pie!  We aren't normally huge blueberry fans in our family, but the recipe for this pie is the perfect combination of sweet and tart.  Get the recipe and baking instructions from Betsylife.
8. You're A Grand Old (Cake) Flag! 
You're a grand old flag,
You're a high tasting flag…
Every mouth waters true,
'Round layers of red white and blue
You can sure boast and brag,
When guests devour this tasty flag!
9. Relish the Moment
Relish in your 4th of July celebrations with a very tasty hot dog bar.  Be sure to load all your toppings into condiment bottles.  How fun are all fantastic patriotic printables?!  This party theme is sure to be a weiner!
10. No Trivial Matter!
Pass those tummy-rumbling minutes before dinner by testing your American knowledge.  Print out the American trivia cards and add them to the oh-so-perfect napkin holders.  Get all the printables from Yellowblissroad.  Better start studying!