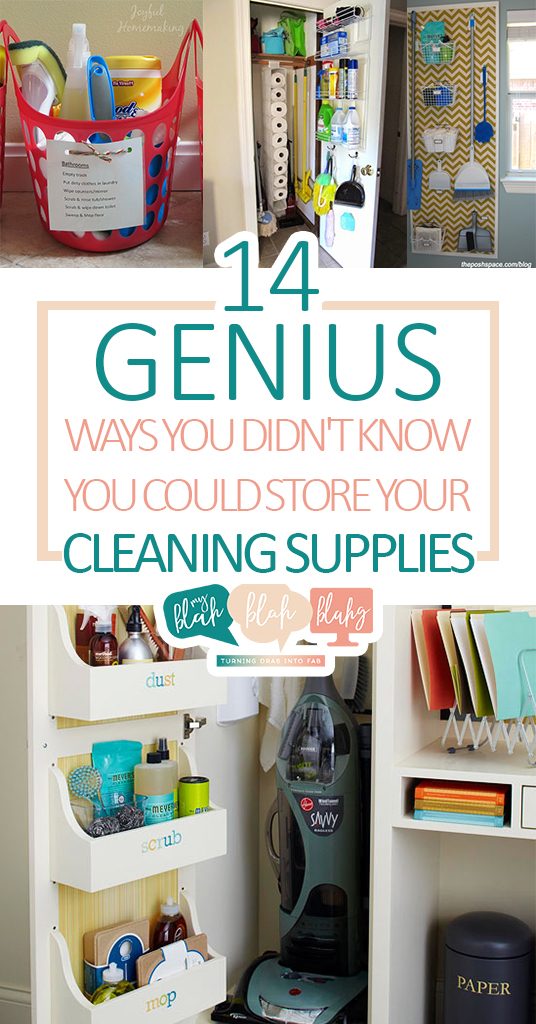 One of the most frustrating things I experience when it comes to keeping my home clean is feeling unorganized with the supplies that are supposed to help me become more organized.  Here are 14 great ideas for storing your cleaning supplies to help maximize your space and time.
1. Shoe Holder
I love this idea from One Crazy House as a way for keeping cleaning supplies off the floor and away from little hands, especially if you only use the top pockets.
2. Closet Hooks
Attach hooks in the back of closets and cabinet/locker spaces for hanging rags and other supplies.  What a great use of space from Better Homes & Gardens.
3. Decorated Pegboard
Pegboards have so many potential uses!  The Posh Space shares how a decorated pegboard could be used to hang your cleaning supplies and shelves for more organization.
4. More Shoe Hangers
In addition to your pocket shoe holder, you can also use the rack shoe hanger to store cleaning supplies.  Store rags, sprays, brushes, and more inside those pockets in addition to just paper towels.
5. Wire Shelving
Securing a wire shelf on the inside of a door helps to free up closet shelves and other space for more organization.
6. Repurposed Towel Rod
Hang spray bottles and other items from a towel rod in cupboard spaces.  Keeping bulky spray bottles up and out of the way will free up space for your other cleaning supplies.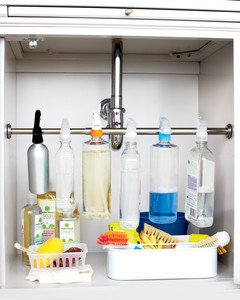 7. Wire Baskets Under the Sink
Rest some wire baskets on that same towel rod you're now using to hang spray bottles.  These inexpensive purchases will create even more room in your cabinets.  Titi Crafty has more details here.
8. Baskets and Caddies
Install baskets and caddies to the inside of cabinet doors to hold sponges and other loose items.
9. Chore Baskets
Load inexpensive baskets with cleaning supplies specific for particular jobs.  Include a list of chores that can be accomplished with those supplies on each basket and VOILA!…  Ready-to-go chore baskets.  Check out Joyful Homemaking for all the details.
10. Trash Bag Dowels
Free up cabinet or closet shelves by hanging garbage bag rolls on dowels under the sink. Go to Simply Organized to get project instructions.
11. Cleaning Caddy
Keep your cleaning supplies within arms reach no matter where you are in the house.  Load up a caddy with all your essential supplies and take it around with you as you move from task to task.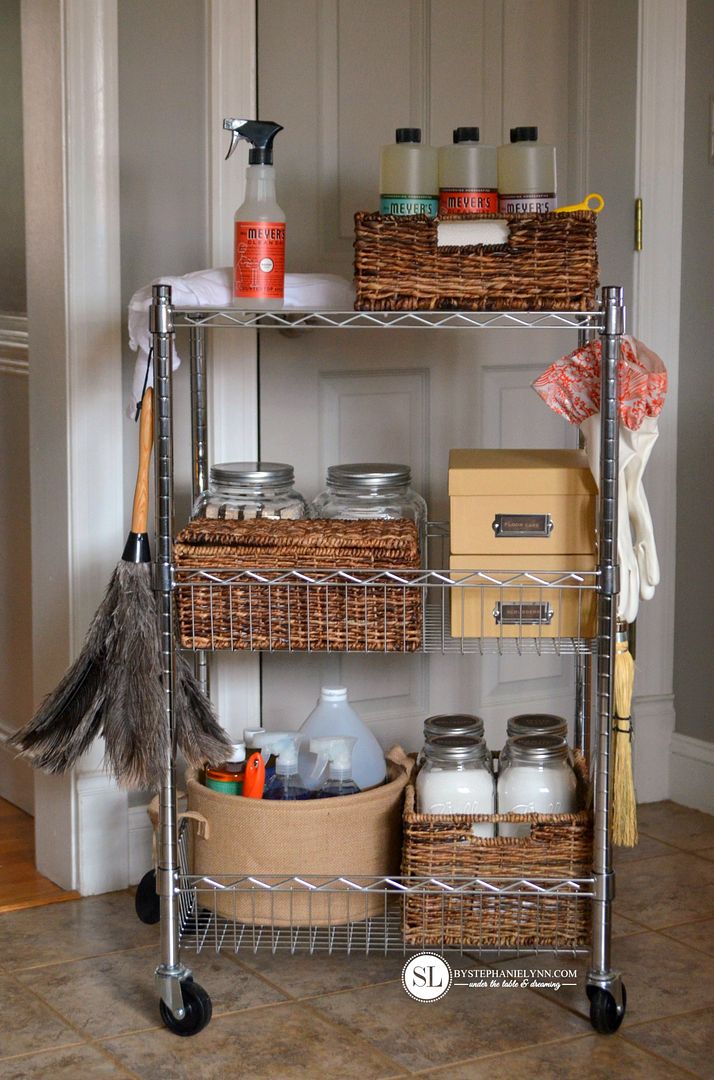 12. Repurposed Magazine Organizers
Secure magazine organizers to cabinet and closet doors for an oh-so-perfect plastic wrap/aluminum foil holder.  I love it when things make perfect fits like this!
13. Lazy Susan
Install a Lazy Susan in your cleaning cabinet to help make supplies more accessible.
14. Towel Rod
Secure a towel rod to cabinet doors to hang cleaning gloves.