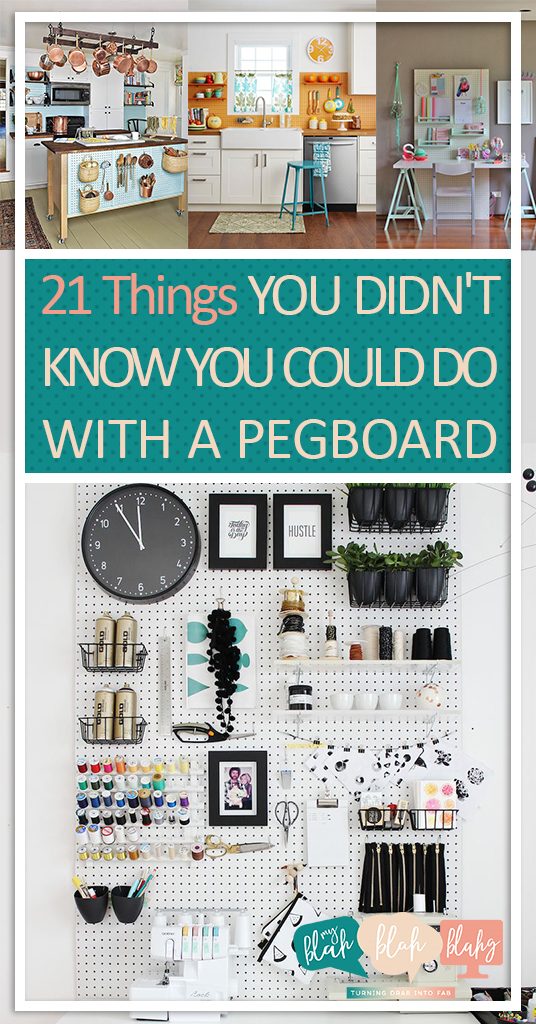 When I think of pegboards I think of garages, workshop spaces, and tools.  But with some creativity, paint, and the right space, pegboards can make for some really unique decor.  Here are 21 ways to use a pegboard you may not have seen before.
1. On A Kitchen Island
Add an extra element of fullness to the hub of your home by hanging lighter cooking tools from a kitchen island pegboard.  The Kitchn has more details on their blog.
2. As A Backsplash
I love this idea for adding some additional shelf and storage space.  The sponge rack is perfect for keeping sponges near but away from food prep counters.
3. Hidden Key Hooks
If you're like me, you have a hard time keeping track of the darn mail keys!  But with this pegboard idea, you'll never have to search for loose keys again.
4. Office Organization
This is a fresh way to decorate AND add extra storage space to your office or craft space.  Doesn't this idea make it easy to change things up and add seasonal decor?
5. Study Space
I don't know what it is about kids and struggling to put things away in drawers and cupboards! With this pegboard storage idea from Homedit, it'll definitely be a lot easier!
6. Gift Wrapping Station
It seems like there are more and more birthdays to celebrate every year.  It can be frustrating trying to find the perfect wrapping paper only to discover that it's smashed and crinkled.  This gift wrapping pegboard station will help keep birthday wishing crisp and crinkle-free!
7. Table Centerpiece
What a fantastic modern way to create a floral centerpiece for gatherings and events!  Get the how-to details at wimp.com.
8. Portable Storage Box
Don't have the wall space for pegboard storage?  Bring the pegboard organization around the house with you with this great portable box from the wimp.com.
9. Wall Art
Get your art on!  Transform a pegboard into a work of art by threading string through the pegholes.
10. Dish Love
Create a plate crate of sorts with pegboard drawer lining.  Get the directions here from Better Homes and Gardens.
11. The Pegboard Headboard
This is one of my absolute favorite pegboard ideas!  This pegboard headboard adds such a layer of class and style that can elevate any bedroom look.  Another fantastic project from Better Homes & Gardens!
12. Baby On Board
Keep baby care supplies and toys nearby but out of reach with this excellent nursery addition.
13. Checkerboard Backsplash
Create a multifunctional checkerboard backsplash with alternating pegboard, chalkboard, and pork.  Change out the tiles for seasonal looks as well.
14. Knitting Nook
I have such a love for knitting that I affectionately call it my "Inner Granny".  One of the most frustrating parts of the hobby is keeping skeins of yarn tangle-free.  Cats won't like it, but this pegboard idea puts and end to the tangled yarn frustration.
15. Welcoming Coat Rack
Display a friendly message to guests as they arrive.  It would be so easy to regularly change out the message with seasonal words or other words of inspiration.
16. Pegboard Leaves
Add layers of storage space with pegboard "leaves".  What a great way to make extra racking where the space didn't exist before!
17. Garage Greatness
Just looking at this garage organization makes me happy!  Turn your normally cluttered garage into a space in which you actually want to spend time with this idea from Homedit.com.
18. Headboard Theming
This Union Jack headboard gets the Anglophile in me really excited!  I love how easy this pegboard project makes it to give a bedroom a theme while also adding new storage space.
19. Pegboard Monogram
Light it up! What a bright idea this pegboard monogram is from Homedit.com!  
20. Geoboard
This pegboard project speaks to the mom and the teacher inside of me.  As simple as they may look, geoboards are a fantastic way for kids to learn shapes, multiplication, as well as area and perimeter.   Tarkheena Crafts explains how easy it is to make your own geoboard here.
21. Cross Stitch Cabinets
Trade out your old cabinet doors with cross stitched pegboards for a customized look.  How cute would this be in a little girl's room?!  See Purestyling for the pictures.